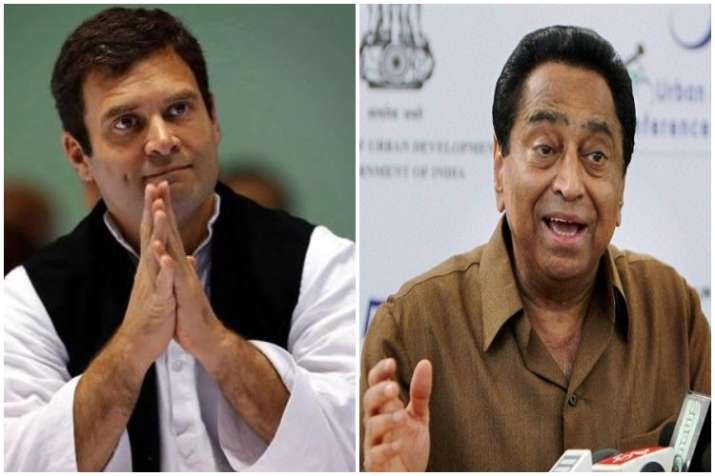 Veteran Congress leader Kamal Nath is likely to be the new Chief Minister of Madhya Pradesh, according to IndiaTV sources.
Jyotiraditya Scindia, who was also considered to be in the race for CM's post, proposed name of Kamal Nath for the chief ministerial post, sources told IndiaTV.
Congress MLAs on Wednesday authorised the party's national president Rahul Gandhi to decide the chief ministers as senior leaders including top contenders held hectic parleys through the day and till late in night.
Also Read | Rajasthan: Congress stakes claim to form government; party MLAs authorize Rahul Gandhi to decide on CM
Gandhi, on the other hand, has also reached out directly to the party workers in the three states to know their top choice for the chief minister post through an internal mobile messaging app, party leaders said.
The Congress, which got 114 seats in the 230-seat Madhya Pradesh Assembly, got support from Mayawati's Bahujan Samaj Party (BSP) and Akhilesh Yadav's Samajwadi Party paving the way for returning to power in the central state after a gap of nearly 15 years.
In all the three states where Congress has emerged victorious signalling a newfound energy in the party ranks to stop the BJP juggernaut before the 2019 general elections, the newly-elected MLAs met in the presence of party's central observers, while party leaders also met governors in Madhya Pradesh and Rajasthan to stake government formation claims.
In Madhya Pradesh, where three-time Chief Minister Shivraj Singh Chouhhan tendered his resignation to Governor Anandiben Patel, the Congress team that later met the governor to stake government claim included two top contenders for the top job -- Kamal Nath and Jyotiraditya Scindia.
Scindia also later told reporters that a final decision was expected on Thursday.
The top leaders from the three states, as also the central observers, are expected to meet Gandhi on Thursday, while hectic lobbying was expected to continue through the night on Wednesday.
Central observers A K Antony for Madhya Pradesh and K C Venugopal for Rajasthan took the opinion of newly-elected MLAs, party leaders said.
Senior party leaders in the national capital said the meetings of MLAs and authorising the party chief is part of an established process within the party for selecting the chief ministers.
Former Congress president Sonia Gandhi described the party's good showing in the Hindi heartland states as a victory over the BJP's "negative politics".
The Shiv Sena, an ally of the BJP at the Centre and in Maharashtra, said people have brought "those flying in the air back to the ground".
Watch: Congress gets BSP's support in Madhya Pradesh
( With inputs from agencies )