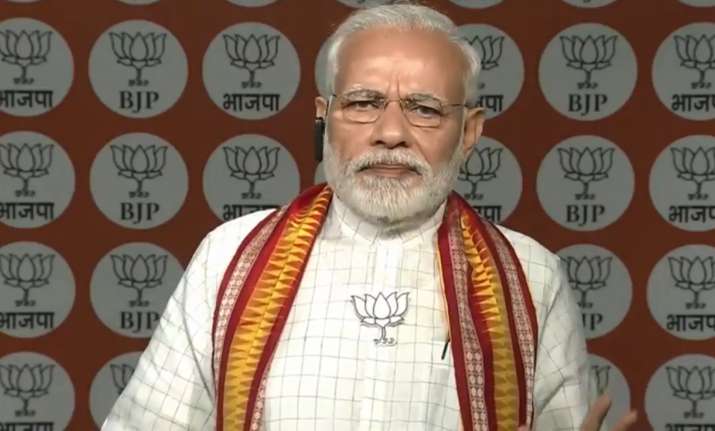 Prime Minister Narendra Modi today hit out at the opposition for opposing technology be it in the form of Aadhaar card or EVMs and said the BJP wants to promote a modern India by giving importance to skill development and innovation. 
Addressing BJP yuva morcha workers via the 'Narendra Modi App,' the prime minister also lauded efforts of party workers in maintaining the public mood in favour of the party despite rumours of a hung assembly in the May 12 elections in Karnataka. 
"At 45 degree temperature heat, I have seen the enthusiasm of people...it is rare to witness such level of enthusiasm...I can see that in Karnataka, people themselves are fighting the elections," he said. "People from all walks of the society are in the elections," he added. 
Modi had yesterday addressed four rallies in poll-bound Karnataka. He will be addressing three rallies in the state tomorrow.
 
Despite disappointing news being spread that there will be a hung assembly, Karnataka BJP workers have played a key role in maintaining the atmosphere of enthusiasm in favour of the party, Modi said. 
Highlights: 
Watch PM Modi's interaction with BJP workers here: 
09:45 am: FDI in India has reached its highest level which is consistently increasing: PM Modi 
09:40 am: After coming to power @BJP4Karnataka will establish 60 state-of-the-art Namma BPO complexes across the state and a corpus of INR 250 Crore for low-interest loans to encourage local entrepreneurs to set up BPO businesses: PM Modi 
09:33 am: In 1984 there was a phase of violence after Indira Gandhi's assassination. Since then it seems violence has become a part of the political system. Our workers were killed in Tripura, Kerala, Karnataka. This doesn't suit democracy. Violence must be opposed.: PM Narendra Modi
09:33 am: There is no space for violence in a democracy. When a person loses faith in himself & doesn't have the strength to speak or accept the truth, he chooses the path of political violence.: PM Narendra Modi to Yuva Karyakartas of BJP Karnataka via NaMo App
09:32 am: Violence in any form should not be allowed by any political party or ideology in democracy and I appeal to BJP's youth karyakartas  in Karnataka not to act in vengeance even when they have lost their several karyakartas in political violence: PM Modi
09:10 am: Five world-class Sports Centres will be established in Karnataka: PM Modi 
09:08 am: It is the good luck of BJP that instead of people being heaped on us from above, our workers started working for people from the grassroots level : PM Modi 
09:07 am: The youths of Karnataka have proved their mettle in all fields : PM Modi 
09:05 am: The enthusiasm that I am witnessing in Karnataka polls shows interest of people in election : PM Modi
Pulling all stops to wrest power from the hands of Congress in Karnataka, PM Modi is scheduled to hold 21 rallies before May 10 when election code of conduct will be implemented. Karnataka will go to polls on May 12 to elect its representatives for the 225-member assembly. The results will be out on May 15.