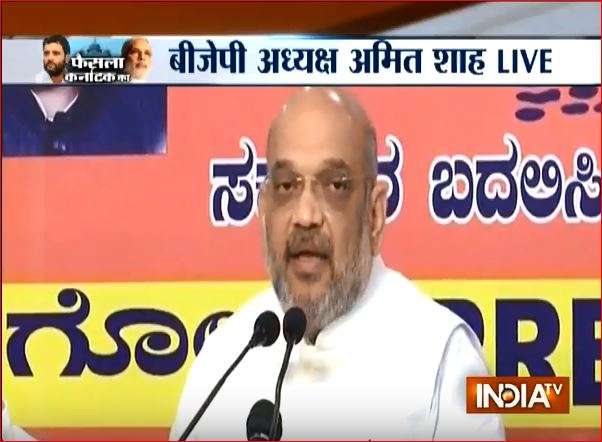 BJP President Amit Shah on Thursday claimed that his party will form the next government in Karnataka by winning more than 130 seats in upcoming Assembly elections in the state.
Rejecting speculations over the emergence of a hung Assembly after May 12 elections, Amit Shah said that the BJP will form the next government in the state on its own and there was no question of either taking or giving support to anybody. 
The BJP president accused the Congress of taking support of traitors for winning elections.
" We can lose elections but can't sit with Social Democratic Party of India (SDPI) and Popular Front of India (PFI). Congress takes support of SDPI and PFI to win elections and that's the difference between them and BJP. Congress doesn't refrain from taking support of traitors," Amit Shah told media persons In Bengaluru.
He also alleged that the Siddaramaiah government of Karnataka is the most unsuccessful government in India since independence.
Refering to the killing of BJP and RSS workers in Karnataka, Shah alleged that Law and Order has seen a downfall in the state. 
"Law and order have seen a downfall in Karnataka. More than 24 workers of BJP & RSS were brutally killed in the state and Congress considers it a part of politics. No efforts were made to nab the culprits," Shah said.
Watch video: BJP president Amit Shah attack Congress over law and order situation in Karnataka
​