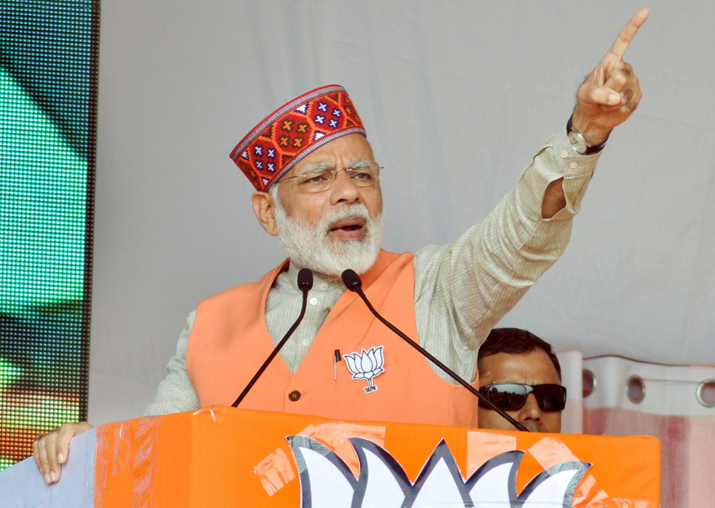 Prime Minister Narendra Modi today vehemently attacked the Congress and its vice president Rahul Gandhi for questioning the Army over the contentious Doklam standoff in Sikkim sector between Indian and Chinese security forces. 
Addressing a rally in poll-bound Himachal Pradesh, the Prime Minister chided Rahul for secretly holding a meet in July with Chinese envoy over the issue. He said that this represents a lack of primary understanding within the leaders of the Congress party. 
"Country is aware of how the Doklam issue was dealt with, but the Congress even questioned that. Someone born in a family which has ruled for decades doesn't believe his own Army and agencies? He Meets China's envoy and asks about Doklam," he said.
"Instead of asking Indian diplomats & Foreign Ministry, you go and ask Chinese envoy. Sorry to say,  this shows lack of primary understanding," the PM added.
The PM further said that it was 'an insult of people of India when 'these people' held talks with Chinese leaders on Doklam instead of asking the elected government'.
In July, Rahul had secretly met Chinese ambassador Luo Zhaohui amid the standoff between Indian and Chinese troops near the Sikkim-Tibet-Bhutan tri-junction. This had triggered a major controversy in the political fraternity with ruling party leaders slamming the grand old party. 
The more than two-month old standoff between India and China ended in August with both the sides announcing that they will withdraw their troops. 
Few days ago, there were reports of road construction activity by China in Doklam. Rahul had asked the Prime Minister to explain reports of Chinse construction in the region. However, the Ministry of Foreign Affairs said that there are no new developments at Doklam and its vicinity and that the status quo prevails in the area.
The Prime Minister also said that the Congress had become a laughing stock and that they needed to introspect why people were turning away from them across the country.
"I have worked extensively in Himachal Pradesh and I am very familiar with all cities. I know each and every street here. There are five monsters in Himachal Pradesh which we need to get rid off - mining mafia, forest mafia, drug mafia, tender mafia and transfer mafia," Modi said.
The state is set to go to polls on November 9. Results will be declared on December 18.