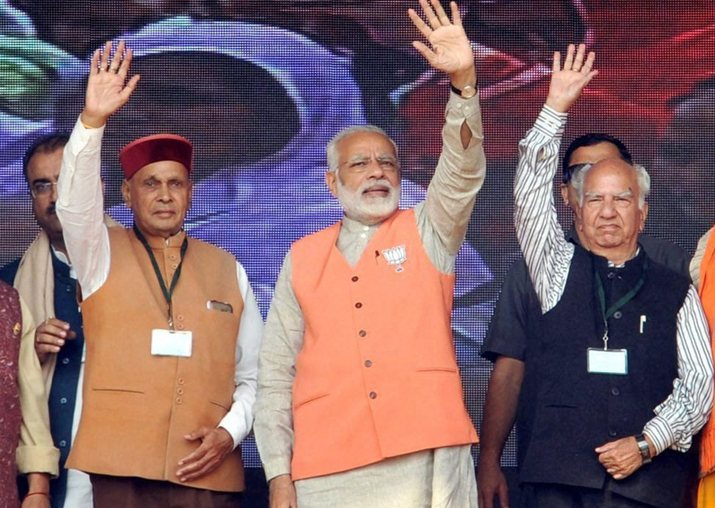 BJP's chief ministerial candidate in the Himachal Pradesh Assembly elections, Prem Kumar Dhumal, today dubbed the Congress' poll manifesto as a "laundry list of baseless promises". 
He also accused the ruling party of not fulfilling half the promises it made in the last Assembly elections. 
"Congress has proposed a laundry list of baseless promises as part of their manifesto for the upcoming elections. But they have not realised that they have proposed most of the things they could not fulfil during their 5-year tenure. Despite not fulfilling 50 per cent of the poll promises, the Congress has yet again come up with the same points, just to make the manifesto look comprehensive," Dhumal said in a statement. 
The BJP leader said the public would not trust a government again which failed to live up to its promises while being in office. 
"They (Congress) promised earlier to appoint Public Grievance Commissioner, grant benefits to employees and pensioners on completion of 65, 70 and 75 years of age, completion of four lane national highways from Shimla-Hamirpur-Pathankot etc. How can the public trust this government when they have not taken any steps in these directions in the last 5 years?" he asked. 
Dhumal, a former chief minister, also accused the Congress of stealing the BJP's vision document. 
"In the manifesto, the Congress has promised to build women hostel at district and sub divisional quarters, without mentioning the condition of the existing women hostels which they could not maintain, although they were constructed with the central government grant," the BJP leader added. 
Polling for the 68-member Himachal Pradesh Assembly will take place on November nine and counting of votes will be held on December 18.