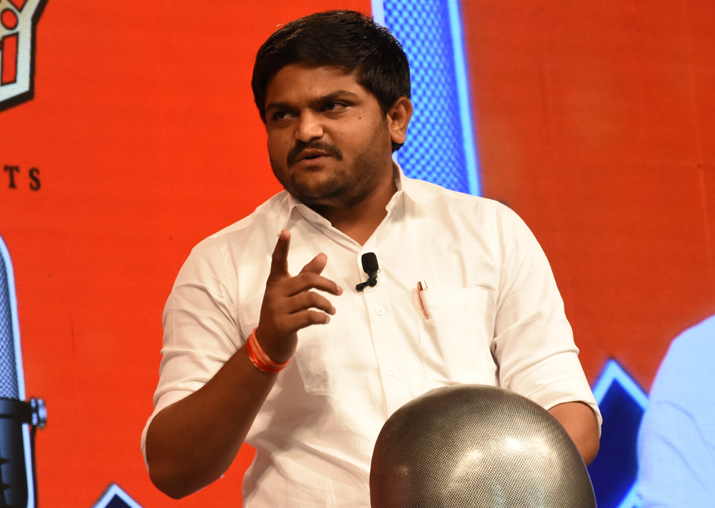 Declaring that his movement's topmost priority was to ensure defeat of BJP in the forthcoming Gujarat elections, Patel quota movement leader Hardik Patel today said, he and his supporters "are neither slaves of BJP, nor Congress".
Replying to questions in Chunav Manch, the daylong India TV conclave, the fiery Patel movement leader said: "Our main aim at the moment is to ensure the defeat of BJP in the forthcoming assembly elections. There are two main political parties in Gujarat:  BJP and Congress. Since BJP is in power, we will work towards its defeat."
Patel however posed a rider. "Even now, if the BJP convinces us that it can give us reservation in accordance with the Constitution, we will end our movement. And if it does not, our movement will continue."
The 24-year-old leader said, he was yet to attain the age of contesting elections, and therefore, he was ruling himself out of the race. "As far as the Patidar movement is concerned, our colleagues are free to contest from wherever they like". 
Asked why he welcomed Congress leader Rahul Gandhi's arrival in Gujarat on social media, Hardik Patel replied: "If Modiji can meet Nawaz Sharif, why can't I welcome Rahulji in the spirit of 'Atithi Devo Bhava' (guests are gods)?"
Hardik Patel said, the Congress has offered 20 per cent reservation to Patel community, while the BJP government's decision of granting 10 pc reservation was quashed by the Gujarat High Court last year. "This time, we want to be very clear. Congress must explain to us how they can provide 20 pc reservation in accordance with the Constitution."
The Patel quota stir leader said, "if demonetization and GST can be enforced at the stroke of midnight, why can't our legislature sit till midnight and sort out the reservation issue?".
Asked about his perceived "soft attitude" towards Rahul Gandhi, Hardik Patel replied: "Rahul is not the son of my mausi (aunt) that I am soft towards him."