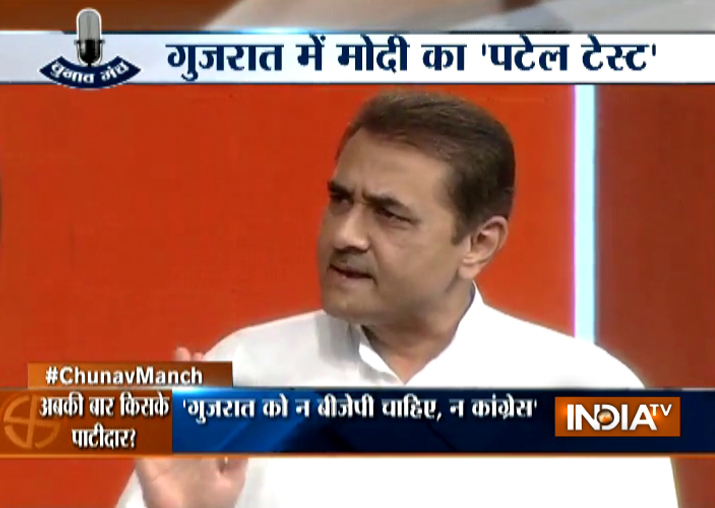 Nationalist Congress Party (NCP) leader Praful Patel today took a jibe at Congress vice-president Rahul Gandhi for frequently visiting Gujarat in recent times in a bid to woo the voters where elections will be held later this year.
Participating in Chunav Manch, India TV's day-long mega election conclave in Ahmedabad, Patel termed Rahul's visit to temples a political stunt. He said that the Congress had in last 22 years failed to challenge the BJP and thus it is now indulging in appeasement politics.
"All political parties do everything when is elections are near. Rahul Gandhi visiting temples is just a political stunt. Seeking blessings of god is good, but for votes… it is now correct," he said. 
Slamming the Congress for branding the NCP as the B-team of BJP, he said that the NCP is contesting against BJP in Gujarat and noted that his party shared power with Congress at both – Centre and Maharashtra to keep the saffron party out of power. 
Patel also took the opportunity to blame the Congress for NCP's limited role in the national and state politics. "We played the role of younger brother with Congress, and thus we are very limited now."
"We were with Congress in Centre for 10 years just to keep BJP out of power. We shared power with Congress in Maharashtra only to keep BJP out of power," he said.
He further said that "people want an alternative, they are not ready to accept the Congress and the BJP". "When the BJP can storm to power, which had once only 2 MPs, why can't NCP?" he added.
To a question with whom the NCP will join the ranks if it bags 20 seats in the upcoming assembly polls, he replied: "BJP is our principal opposition party in the upcoming election." 
The NCP leader also said that he is "ready to lead the NCP from front if it gets the numbers in Gujarat."
On Hardik Patel, he said that "it is wrong to slap sedition charge on him. He has right to express his views."
Questioning the BJP's skyrocketing claims of development in Gujarat, he said that the state is lagging behind on several fronts despite being branded as a model state. "Look at the conditions of the roads in Ahmedabad, condition of farmers are very pathetic, poverty is on rise."
The term of the current Gujarat Assembly will expire on 22 January 2018 and the Election Commission has declared that voting for electing the new Assembly will be held before December 18 this year.