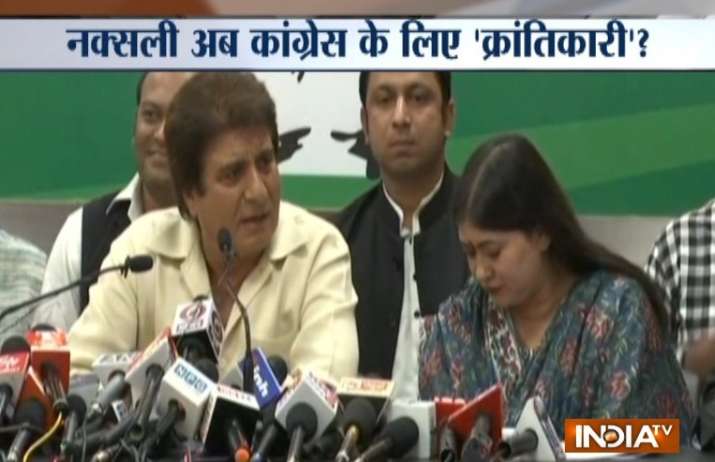 Uttar Pradesh Congress chief Raj Babbar on Saturday advocated for a peaceful resolution of Naxal issue. The actor-turned-politician, who is in Chhattisgarh to campaign for the upcoming state assembly polls, said that guns and bullets cannot resolve the issues of people who have taken up arms against the government. 
Slamming the recent voilence against and by Naxals, the Congress leader said, "The decision are not made with bullets or guns, their questions will have to be addressed. You cannot stop people on the path of revolution by use of threats, flattery, bribery, misleading tactics."
He said that grievances of Naxals should be addressed as the "movement" started for the rights of people.
"All I want to say is that when people in power deprive others, they sometime resort to fighting and even laying their lives for their just rights, which is wrong because neither their guns will resolve this problem nor government's. If the solution will be found, it will be found by establishing a dialogue and restoring their rights," he added. 
Those have diverted from the mainstream should be brought back, Babbar said, adding that picking up a gun was not a solution.
Queried about whether he was claiming that Naxals were revolutionaries, Babbar said, "I want to clarify that I said the issue can be solved through talks with those (Naxals) who call themselves revolutionaries by indulging in acts of terrorism."
He refuted BJP allegations, made on several occasions, that the Congress was "backing" Naxals.
"The Congress party had lost its state leadership (in Naxal attack in May 2013). BJP keeps on accusing the Congress of directly or indirectly backing Naxals which reflects BJPs mental sickness. How can the Congress party which lost its senior (state) leadership in a Naxal attack take their side," Babbar asked.
Chhattisgarh goes to polls in two phases on November 12 and November 20 and counting of votes will be taken up on December 11.