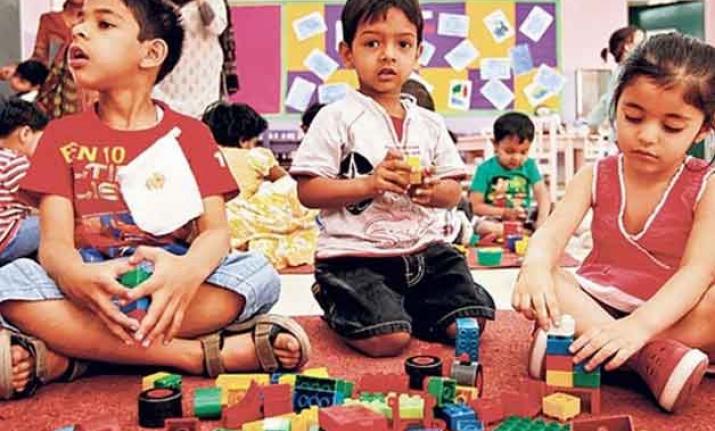 Children going to play schools will be assessed on their behaviour, sharing and caring habits, and holding crayons and pencils properly, among other parameters, according to new draft guidelines framed by the NCERT.
The National Council of Educational Research and Training (NCERT) has developed learning outcomes for pre-school children which will have to be implemented by play schools.
Some of the parameters for assessment include, "Is the child easygoing or tense? Is he or she able to express her feelings verbally? How does a child interact with other children? Does the child share materials?"
"Does he or she easily get frustrated? Does the child initiate any task or activity or waits to be invited? Does he or she spend time in activity areas? Does he or she moves on own from one activity area to another or requires teacher's help? All these parameters need to be kept in mind by pre-school teachers while assessing children," the draft of the guidelines read.
The teachers will also be required to make daily observational notes of the child's behaviour and progress.
"Through continuous observation and assessment, it becomes easy to plan early learning experiences to match the needs of children and challenge their abilities. 
"The main purpose of observing children is to get to know them, identify their needs and accordingly support their learning, but the teachers need to know what, when and how to observe," the draft said.
Other factors on which the children will be judged include whether they hold pencils and crayons properly, whether the child invents new ways to use blocks or other material and can join puzzle or not.
The NCERT had last year announced that it will, for the first time, recommend a curriculum for children in nursery classes, envisioning a plan under which there would not be any textbooks and the focus would be on classroom activities.
The draft of the guidelines has been framed by a team of experts and comments are being sought on it before it is officially released.