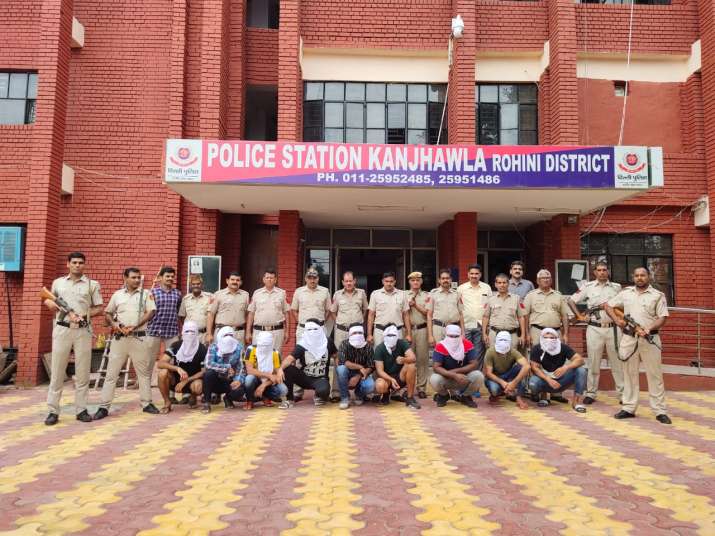 Nine members of a gang, headed by the infamous Neeraj Bawana, have been arrested by the Delhi Police.
Three luxury cars and a huge quantity of weapons have also been recovered from their possession.
The Neeraj Bawana gang is one of the oldest and infamous gangs, active in the national capital and surrounding areas, and is involved in various crimes. Many cases of murder, robbery, extortion and loot have been registered against them.
Neeraj Bawana is currently imprisoned in Delhi's Tihar Jail.
The arrest was made on a tip-off by beat constable Hawa Singh, posted in the Kanjhawla police station. When he saw them coming by luxury cars, he reported to his senior who swiftly reacted and arrested the notorious members.
The police were at first not aware of their identity.
Speaking on the development, SD Mishra, DCP (Rohini) said, "These people are so shrewd that they do not use SIM cards to communicate themselves. When they have to talk or if they have to collect money they use an app called 2nd Line. When a call is made through the App, the first call goes to the server of this app in Canada and then from there the call is made to another person. And the number displayed on the person's phone is any random international number. Due to this, the police could not even trace these vicious criminals."
"These members of Neeraj Bawania gathered at one place and were planning to carry out a major crime in Delhi, but their planning failed due the understanding and presence of mind of beat constable Hawa Singh," he added.
Earlier in July, sharpshooter of the Neeraj Bawana gang, Tarun, was arrested.
ALSO READ | Delhi's most wanted criminal Neeraj Bawana arrested
ALSO READ | Delhi Police arrest 3, bust arms smugglers' gang