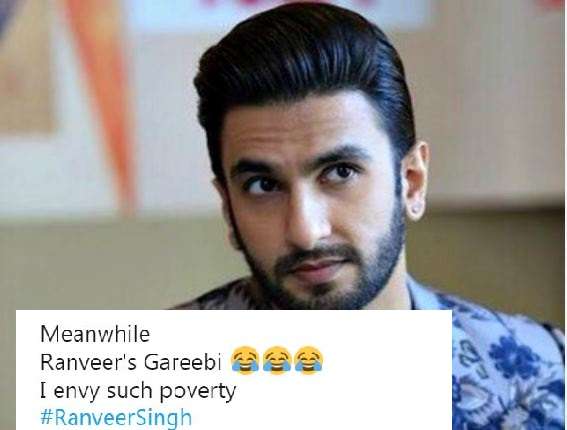 Ranveer Singh was currently on his Switzerland tour as Indian brand ambassador of the foreign country's tourism. He shared many pictures from Swiss Alps and his photographs from the picturesque landscape were making people go green with envy. He also shared funny videos of himself dressed as Charlie Chaplin.
Recalling his childhood vacations, The Padmaavat actor in an interview with Condé Nast Traveller said that his family didn't have enough money when he was child, hence, they would save for that big holiday. ''We didn't have a lot of money when I was growing up. So, my parents would save up and save up for that one big summer holiday abroad; I remember going to Indonesia, Singapore, Italy, but most often it was the US – we had a lot of family there. And December was always Goa with my grandparents,'' said the actor.
Well, this was not taken lightly by tweeple, who brutally trolled the actor for his definition of poor. Suddenly, there were several memes and one-liners on Twitter with hashtag #YoRanveerSoPoor. One user wrote, ''#YoRanveerSoPoor that he didnt have enough contacts to get himself a Dharma contract for his debut and so was forced to settle for a YRF contract''. ''#YoRanveerSoPoor that he cudnt afford a sea facing luxury suite at a top 7-star hotel on his holiday, had to settle for a lawn-facing luxury suite instead :(,'' wrote another.
Check out hilarious tweets:
#YoRanveerSoPoor that he didnt have enough contacts to get himself a Dharma contract for his debut and so was forced to settle for a YRF contract. pic.twitter.com/QQ2Cv8DKa0

— Od (@odshek) May 4, 2018
#YoRanveerSoPoor that he cudnt afford a sea facing luxury suite at a top 7-star hotel on his holiday, had to settle for a lawn-facing luxury suite instead :(

— Tan (@Puneri_mulgi_) May 4, 2018
#YoRanveerSoPoor that he made me feel really bad for people who ACTUALLY don't have a lot of money.

— Lakeer Ka Faqeer. (@purba_mukherjee) May 4, 2018
#YoRanveerSoPoor that he couldnt afford business class tickets for a family holiday to USA. Had to travel in economy class along with other peasants.

— Od (@odshek) May 4, 2018
If making annual trips abroad in the 90s was the doings of the poor, we need new adjectives for the economic status of 65% of our country's population. #YoRanveerSoPoor

— BeingAlien (@Vaga__bound) May 5, 2018
Meanwhile
Ranveer's Gareebi 😂😂😂
I envy such poverty#RanveerSingh pic.twitter.com/wXPvAYkc17

— Shreya💙 (@SidsFanShreya) May 4, 2018
For all latest news, keep checking our Facebook page