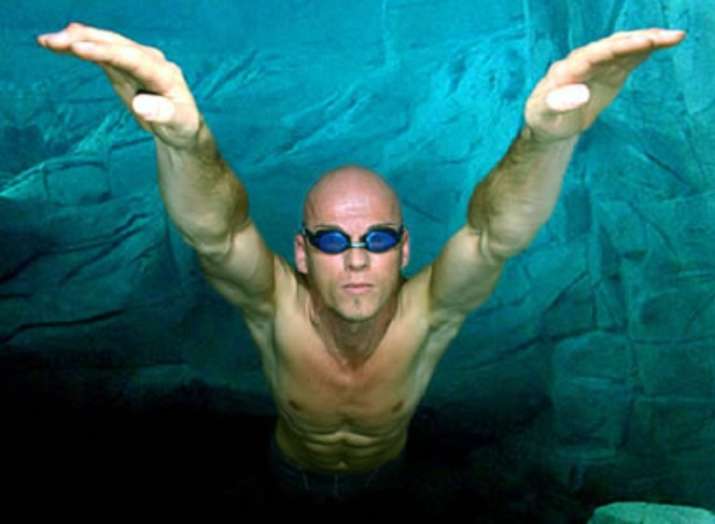 Who doesn't like superheroes? Besides Superman and Spiderman, Aquaman is one creature with super powers that has emerged as the recent favorite of many. Anand Mahindra, Chairman of Mahindra Group, recently took to his twitter to share a video of a man who consisted of the same powers as that of Aquaman. In the video, a man is seen diving into the deep sea without any oxygen and holding his breath for a long period. The man goes to the deeper end of the sea without even feeling the need to breath. Anand Mahindra shared the videos saying, "No idea who this is or where he is.Which makes it even more intriguing&mysterious.. But it's one of the more exotic free-diving videos I've seen. At the end of a long work day, this would be the perfect thing to do—or for most of us—just visualise in our minds!" Check out the video here-
No idea who this is or where he is.Which makes it even more intriguing&mysterious.. But it's one of the more exotic free-diving videos I've seen. At the end of a long work day, this would be the perfect thing to do—or for most of us—just visualise in our minds! pic.twitter.com/oYa27UxfxA

— anand mahindra (@anandmahindra) January 8, 2019
While Mr. Mahindra doesn't know who he is, netizens recognized him and revealed that the man is Austrian Herbert Nitsch who current freediving world record holder and "the deepest man on earth". Herbert was entitled to the name in 2007 when he set the world record for freediving at an incredible depth of 214 meters (702 feet) in 2007 in the No Limit discipline. However, in 2012, he broke his own record with a No Limit dive to 253.2 m (830.8 ft).
Nonetheless, people who were unaware about him were left shocked after seeing the video shared by Anand Mahindra. In fact, twitterati went on to call him the real Aquaman on the face of earth. One Twitter user wrote, 'Oh dear..!!! #Aquaman exists for real..!!!'. Another asked, "Are you a human or what.  Absolute confidence and sheer fearlessness.  Awesome man."
Check out what all Twitterati has to say-
Oh dear..!!! #Aquaman exists for real..!!! 😵😵

— Moinak Das (@d_moinak) January 8, 2019
The feat is "breathtaking" while the labyrinthine passage is scary but beautiful...

— SUJAY KARNAD (@SUJAYKARNAD1) January 8, 2019
While watching only I died thrice Sir 🤣..

— Sumeet Dwivedi (@Developer_SKD) January 8, 2019
Forget holding breadth or pressure so deep, I'd die of claustrophobia!!

— Sreehari (@sreehari1225) January 8, 2019
Real Aquaman

— Ramesh M Iyer (@Iyerwall) January 8, 2019
January 8, 2019
For latest stories and viral videos breaking the internet, check out our BUZZ section!