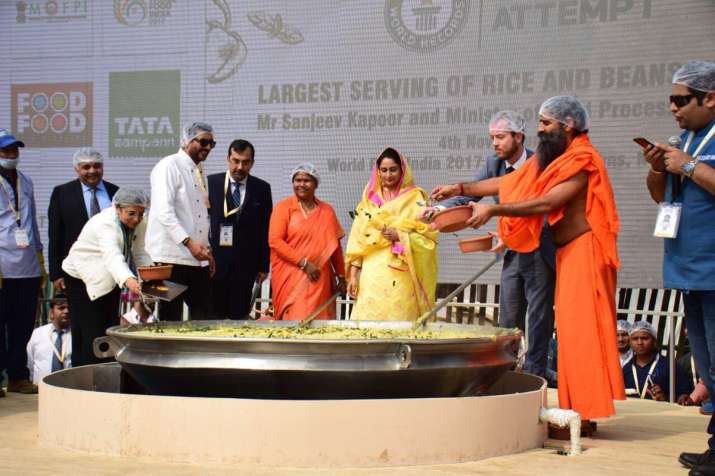 Whether it is due to illness or laziness, khichdi has rescued us many times. From simple to a spicy one, you can prepare as per your taste. Khichdi mixes well with all the ingredients you put in without spoiling the taste. What more could you expect from a dish? In an attempt to popularise India's staple food khichdi in international market, renowned chef Sanjeev Kapoor took a giant task and successfully completed it. At the World Food India Festival in New Delhi on November 4, 918 kgs of khichdi was prepared at once in a single container. The Brand India Food prepared at India Gate Lawn entered the Guinness Book of World Records. The planning for this began three months before. Union Food Processing Minister Harsimrat Kaur Badal said that the dish is 'wonder staple food' of India and is also symbolic of unity in diversity. Prime Minister Narendra Modi inaugurated the event at Vigyan Bhavan on November 3. Here are 10 things you should know about the world record khichdi.
* 918 kilograms of khichdi was prepared at the World Food India Festival which made an entry into Guinness Book of World Records.
* Total nine hours was spent in accomplishing this mammoth task.
* The preparation began from dawn at 3 am and ended by 12:30 pm.
* The dish was prepared by chef Sanjeev Kapoor with a team of 50 members.
* It was prepared at India Gate Lawns before a live audience.
* The kadhai (wok) in which it was prepared had the capacity of 1000 litres and was 7 feet in diameter.It was three-layered and was made with stainless steel.
* Khichdi was served to foreign diginitaries and poor kids on the occasion of Gurpurab.
* It was multi-grain nutritious khichdi as it had ingredients like jowar, bajra, ragi, rice, moong dal, wheat, etc.
* Over 100 ingredients including several spices were used in the preparation.
* Yoga guru Baba Ramdev and Union Minister Harsimrat Kaur Badal and Union Minister Sadhvi Niranjan Jyoti too helped the chef in the process.