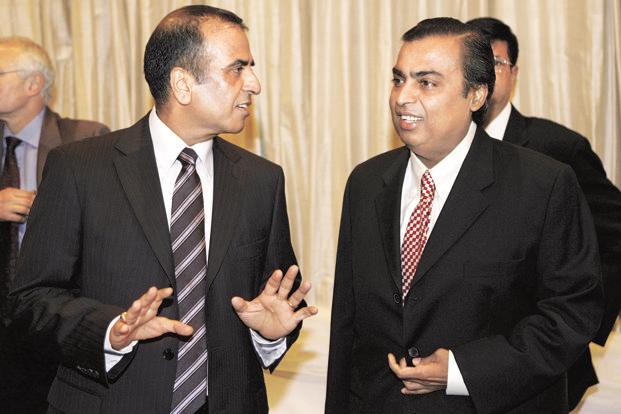 Airtel chief Sunil Mittal and chairman of Reliance Industries Mukesh Ambani came together on a common platform on Wednesday amid a bitter battle between the two giants over a host of issues following the launch of Jio and the disruption it has created in the wireless mobility market. While sparks were expected to fly, what was witnessed was quite unexpected.
Sunil Mittal's Airtel, which has been at odds with Reliance Jio on issues ranging from tariffs to interconnect charges and data speed, spoke of the need to collaborate with Mukesh Ambani's Jio and other industry players on technologies for the future and for creating synergies in new investments. He was addressing the inaugural India Mobile Congress (IMC) in the presence of ministers and senior government functionaries.
In what came as a surprise to many, Mittal began his address by referring to the RIL chairman as, "my dear friend Mukesh Ambani".
"Clearly as Mukesh pointed out, none of us can do it alone. We will all have to come together, while we compete head-on, for the benefit of customers," Mittal said as he spoke about the growing influence of India's telecom and IT industry globally. "We have to collaborate among ourselves, create ecosystem, use common towers, hopefully common fibre."
In fact, Mittal's speech had several references to 'Mukesh'.
"Mukesh is putting up a lot of investment and I think other telcos are doing the same. Overall, Rs 50,000-60,000 crore is going in one year to build hard digital infrastructure. BSNL is also doing, and so are other smaller companies," he said. Mittal laso spoke of Rs 10,000-crore investment made by Airtel till September this year, and plans to invest another Rs 18,000-20,000 crore.
Speaking before Mittal after walking into the hall chatting with the Airtel chief, Ambani discussed the possibility of 'achieving the unimaginable' and stressed on the need to forge partnerships.
"No corporate, nor the government, can do it alone. Together, we can achieve the unimaginable," Ambani said adding that there are plenty of opportunities in India which gives space for companies to work together and grow together. "Let's not forget: India provides a big enough opportunity for all of us to grow — and prosper — together."
The Reliance group chairman said that the IT and telecom industry needs to play a "foundational role" in creating digital infrastructure for India to mature into a $7.5-trillion economy over the next decade. He also said that data has emerged as the new oil.
"India does not need to import it. We have it in super-abundance. It will be a new source of value and will create opportunities and prosperity for India and millions of Indians... Data is the oxygen of adigital economy."