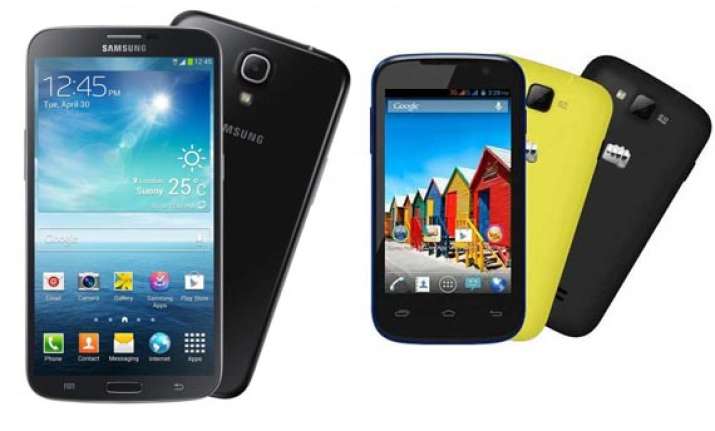 New Delhi: Recently released IDC report shows that local smartphone players in the country are steadily growing giving stiff competition to large smartphone maket like Samsung.
While Samsung still has a strong hold on the market, with a market share of 26 percent, Micromax has now climbed the ladder and accounts for 22 percent of the total Indian smartphone market. The gains posted by Micromax are significant given that the handset maker claimed a 18.8 percent of the market in the previous quarter.
At the third position is Bangalore-based handset maker Karbonn, which now holds 13 per cent of the total market in the country. The data shows vendors were able to ship a total of 9.3 million smartphones in the second quarter of this year. This is up from the 3.5 million units registered in the second quarter of 2012.
The data surprisingly shows that that both Nokia and Sony control 5 percent of the total Indian smartphone market. Nokia, once the leader in the Indian market, now struggles to keep up with both the international brands as well as local price warriors.
The report further says the Micromax has crossed the two million unit mark in shipment. And the bulk of sales have been attributed to the rising popularity of phablets. Micromax, with its Canvas series, seems to have made quite an impact in that category. Karbonn has made an impact through its Titanium and A series phones.
The biggest of them, Samsung, took away a major pie of the smartphone market through its recently launched Galaxy Star smartphone, according to the report. Samsung's mid-tier smartphones have played a big role in moving the needle for the company. In addition, high-end smartphones like the Note 2 and the Galaxy S4, backed by a range of cash-back, zero percent interest and EMI schemes, have also added to the overall sales figure.
Additionally the report also that India should overtake the US by 2017 to become the second largest smartphone market in the world, after China. 

No 5: Sony

Marketshare: 5 per cent