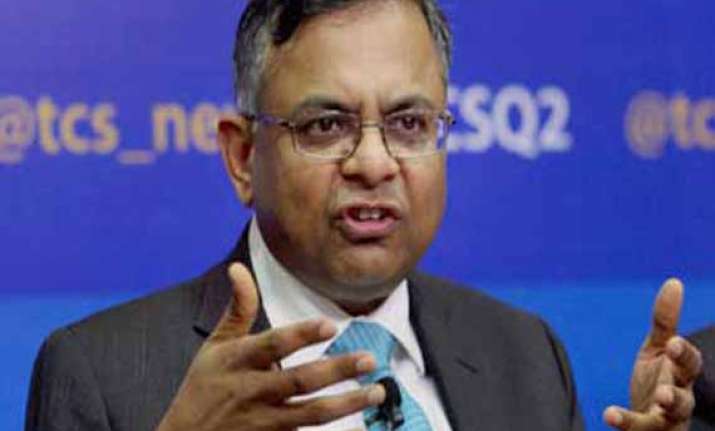 Mumbai: Indian IT bellwether Tata Consulting Services (TCS) posted robust net profit and revenue growth in the first quarter (April-June) of fiscal 2014-15 in rupee and dollar terms.
The global software major announced here Thursday that it posted net profit of Rs.5,058 crore in the quarter under review, registering 27 percent year-on-year (YoY) growth and 4.5 percent higher sequentially.
Similarly, consolidated revenue income for the quarter increased 23 percent YoY to Rs.22,111 crore, which is 2.6 percent up sequentially.
Under the International Financial Reporting Standard (IFRS), net income rose 21 percent YoY to $845 million and gross revenue to $3.69 billion, an increase of 17 percent YoY and 5.5 percent sequentially, which is the highest in the last 12 quarters.
Volume growth was also robust at 5.7 percent sequentially.
Similarly, operating income grew 20 percent YoY to Rs.5,815 crore, which is an increase of 7.4 percent sequentially.
In dollar terms, operating income grew 14 percent YoY to $972 million, an increase of 4.8 percent quarterly.
Operating margin is 26.3 percent in both rupee and dollar terms.
"Robust volumes and healthy growth across all industries and key markets helped us start the new financial year on a strong note, as our broad-based business portfolio continues to deliver results," TCS chief executive N. Chandrasekaran said in a statement here.
The board of directors announced total dividend of Rs.45 per share of Re.1 at par, including a special dividend of Rs.40 per share to mark the 10th anniversary of the company's initial public offering (IPO).
"We have a strong demand pipeline in place and our customer-centric mindset, leadership in the 'digital' space and strong execution capabilities will help us to sustain our momentum," Chandrasekaran said.
Utilisation rate of employees was at an all-time high of 85.3 percent excluding trainees and 79.8 percent, including trainees.
"Our disciplined stance in operations helped us mitigate the impact of multiple headwinds like currency movements, accelerated depreciation norms and wage hikes during the quarter. Looking ahead, we will maintain operating margins in our desired band by operating efficiently," chief financial officer Rajesh Gopinathan said.
The company added five $50-million clients during the quarter.
"We posted the highest incremental revenue of $191 million in the last 15 quarters due to holistic growth across markets led by North America, while Asia-Pacific, India, Britain and Europe continued to grow," Gopinathan added.
Growth was registered across industry segments, led by media & information services, life sciences, retail and telecom, while non-BFS (banking and financial services) verticals grew over five percent sequentially.
Though the company added 15,817 people during the quarter, exit of 10,850 techies resulted in net addition of 4,967 employees,d taking the total headcount to 305,431 till June 30.
Attrition was, however, seasonally higher at 12 percent YoY.
"Our focus on productivity continues to yield results. We have started on-boarding campus trainees with 2,500 joining in June," human resources global head Ajoy Mukherjee said.
The company benefited with an additional one-time charge of Rs.175 crore ($29 million) in depreciation owing to change in useful life of assets.