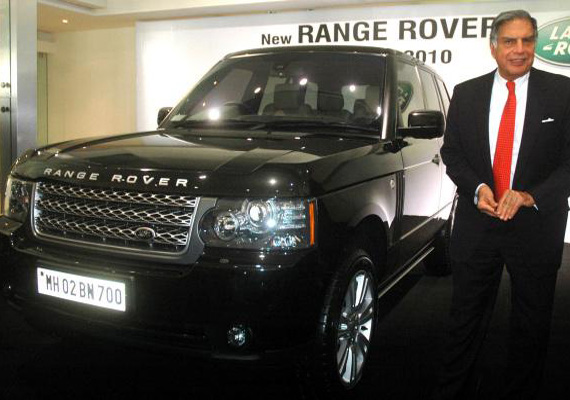 Mumbai, Feb 14: Driven by massive margin squeeze, Tata Motors today reported a 57 percent plunge in its domestic profit for the December quarter, but its British division Jaguar Land Rover (JLR) lifted the overall consolidated net profit by 40.5 percent to Rs 3,405 crore.

Announcing the results, chief financial officer C Ramakrishnan said the jump in the net profit is "mainly triggered by improvement in the performance in JLR" and a handsome gain as impact of the currency fall.

The domestic operations' post tax profit plummeted by 57.6 percent to Rs 173.7 crore because of rising input costs, higher marketing spends and competition in passenger cars segment, coupled with depreciation of rupee and booking of mark to market losses of Rs 100 crore, he said.

Significantly, during the quarter the company crossed the Rs 1-trillion revenue target at Rs 1,14,476.6 crore, managing director Prakash M Telang said.

In line with domestic peers, the company also posted a stress on margins, which were down by over 4.1 percentage points to 6.7 percent.

Despite the steep fall in the domestic net, the market lapped up the Tata Motors counter post the earnings which widely beat their expectation.

The stock hit a 52 week high of Rs 272.40 immediately after the announcement, and closed the day 3.74 percent up at Rs 267.90on the BSE whose main gauge rose 0.43 percent in a dull trade.

The marquee JLR, acquired in 2008 for what analysts dubbed as higher valuation, posted a 57.4 percent jump in net profit at 440.4 million pounds.

A majority contributor to the JLR bottomline was profit emanating as a result of the nearly 20 percent depreciation in rupee, with over USD 100 million being gained.

"In JLR performance, there has been a positive contribution because (of) the exchange rate...close to about USD100 million in this quarter," Ramakrishnan said.

The growth was largely fueled by its recently launched SUV Evoke, and was spread across traditional markets of US and Europe as well as emerging ones like China.

The company's consolidated revenues were up 44 percent to Rs 45,260 crore while Ramakrishnan pointed out to macroeconomic worries both domestically and in the euro zone as things to watch out for.

He said with the recent eight percent appreciation of rupee, some easing of pressures on margins can be expected. Additionally, the company will focus on tightening its operations "heavily" for performance improvement in the domestic market, he added.

Both Tata Motors and JLR will focus on launching variants of existing products to bolster growth, he added.

Commenting on the sales performance of its compact car Nano, Tata Motors managing director Prakash M Telang said the newly introduced 2012 model which promises higher mileage is gaining good traction, and the company is targeting sales of 10,000 per month from the current 7,000 in the next two months.

It will also be increasing the number of single-point Nano dealerships to 300 from the present 120, Telang said.

He further said that Tata Motors, which has taken Nano to neighboring countries like Nepal and Sri Lanka, will also be looking to launch the model in some Asean countries next fiscal.

The country's largest commercial vehicle maker is also mulling setting up of a manufacturing plant in Asean countries and some countries in the neighborhood, he said. Overall, the company's debt-equity ratio currently stands at 0.76: 1, he said.