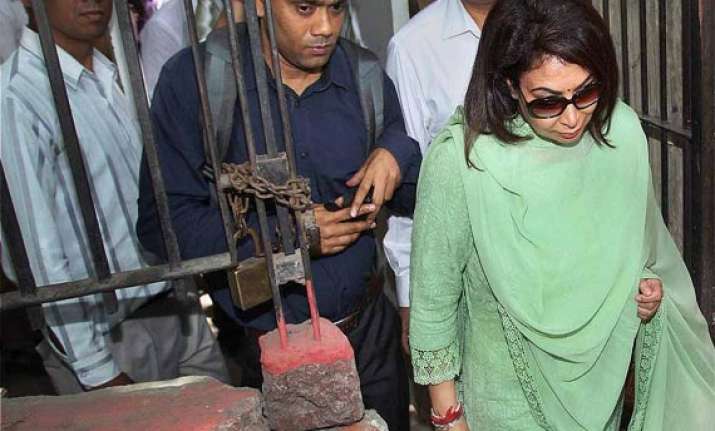 New Delhi, May 28: Former corporate lobbyist Niira Radia today told a CBI court that Tata Teleservices Ltd, which was ahead in the queue for allocation of the 2G spectrum, lost the race while an "ineligible" Swan Telecom, said to be owned by ADAG Reliance Communications, was granted the radiowaves.
53-year-old Radia, who appeared for the first time in the court in the case as a CBI witness, said she was advising the Tatas on telecom issues and the Tata Teleservices Ltd (TTSL) had opposed the allocation of spectrum to Swan Telecom Pvt Ltd (STPL) and Reliance Communications Ltd.
She said TTSL had applied for dual technology licences in 2007 which was granted in 2008 but it did not get the spectrum.
The CBI, in its charge sheet, had alleged that Reliance Telecom Ltd (RTL), an accused in the case, used Swan Telecom, an ineligible firm, as its front company to get licences and the costly radio waves.
"During the time of grant of licence and spectrum, there was a very strong public perception, created by the media, of eligibility and non-eligibility. Through the public perception and advice of Tata's advocates, I came to know that this company was not eligible," Radia told Special CBI Judge O P Saini.
Radia, who was warned against being evasive to the questions, also said, "at that time, there were dossiers in circulation stating that the company (STPL) belonged to Reliance Communications, though I do not have any authentic or personal knowledge".
STPL and its promoters, Shahid Usman Balwa and Vinod Goenka, who were arrested and are at present on bail, are facing trial in the case.
"TTSL had opposed allocation of spectrum to STPL and Reliance Communications. However, they were advised that they were in the queue and as and when the spectrum would be available they would get it. This was the only reply we got from the DoT," she, whose recording of statement remained inconclusive, said.
Radia was answering a question how STPL and Reliance Communications got the spectrum first, when TTSL was ahead of everyone in the queue.
Radia's statement assumes significance as she, in her statement recorded during the probe under section 161 of the CrPC (dealing with examination of witnesses) before CBI, had said that STPL, facing trial in the 2G case, was "not eligible" to get the Unified Access Service (UAS) Licences.
The court, which dubbed her as a "sensitive" and "important" witness in the case, cautioned her against being evasive to a question as to why TTSL was granted CDMA licence so late in 2008, though it had applied for the same in 2005-06.
"You are trying to evade the question. It is a very simple question," the judge said while asking her to be brief and specific in her answers.
"TTSL had applied for CDMA licence in three service areas, that is, North-East, Assam and J&K, perhaps in 2005-06. It was granted these CDMA licences in 2008.
"Since the date of applications, TTSL was following up on their applications and they were advised by DoT officials that there was another company ahead of them by the name of Bycell or something and since application of this company was pending for security clearances, applications of Tatas were held up in the queue," she said.
"TTSL was advised that they were in the queue and would be granted spectrum as and when it would be available.I was coordinating the telecom matters with the Tatas and was not acting in this field singly. TTSL had applied for dual technology spectrum for Delhi service area also," she said.
On being shown the voice identification-cum-transcription memo, Radia identified her signatures on it and said she had earlier identified her as well others' voices to whom she had spoken to in those conversations.
In the court, she was also shown 12 transcripts of her conversations which she said were correct reproduction of her conversations with the person at the other end.