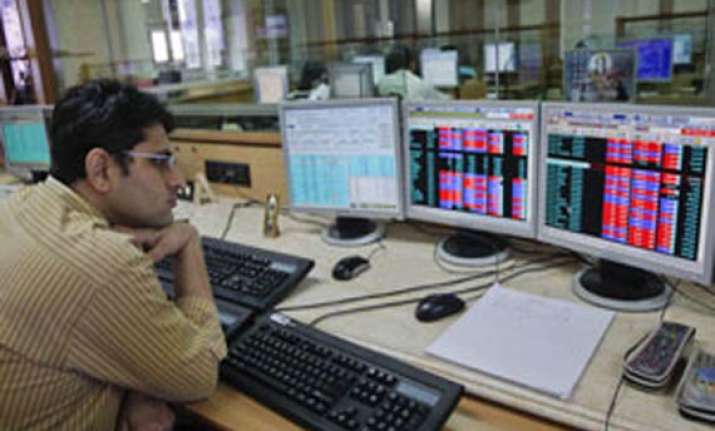 Mumbai, Dec 2: Making gains for the third day in a row, the BSE Sensex moved up 363 points to 16,846.83 on investor hopes that RBI may not raise key rates in view of slowing economic growth and growing signs that euro-zone debt crisis would ease.

Besides, global rating agency Standard & Poor's (S&P) affirming investment grade with 'stable' outlook to 10 Indian banks, including SBI, ICICI, HDFC and IDBI, lifted market mood. The banking sector index gained 3.26 per cent.

FIIs have also revived interest in Indian equities and picked up shares worth Rs 687.26 crore yesterday as per provisional data from the stock exchanges.

The BSE 30-share Sensex resumed higher and hovered in a range of 16,888.84 and 16,428.66 before closing at 16,846.83, up 363.38 points or 2.20 per cent from last close.

The broader NSE 50-issue Nifty also rallied 113.30 points or 2.29 per cent to end above the 5K mark at 5,050.15.

"Rates sensitive stocks attracted buying interest on optimism that RBI may be reluctant to hike the rates further following a drastic decline in weekly food inflation," said Shanu Goel, Senior Research Analyst, Bonanza Portfolio.

"Moreover, report of global rating agency S&P reaffirming investment grade with stable outlook to ten Indian banks also acted as buying trigger for the banking sector," she added.

European markets also opened higher on positive US jobs data on hopes that a solution will emerge to the lingering euro zone debt crisis at next week's European summit. Key indices in France, Germany and UK rose by up to 1.62 per cent.

Meanwhile, Asian markets ended mixed. While indices in China, South Korea and Taiwan were down by up to 1.1 per cent, markets in Japan, Singapore and Hong Kong were up by up to 0.54 per cent.

In all, 29 out of 30 Sensex based scrips registered gains while only Hero MotoCorp closed with minor loss.

Tata power was the top gainer with a surge of 6.30 per cent, followed by Tata Motors (4.57 pc), Tata Steel (4.04 pc), Sterlite (3.79 pc), SBI (3.70 pc), Jaiprakash (3.62 pc), TCS (3.59 pc), NTPC (3.55 pc), ICICI Bank (3.31 pc), Hindalco (3.13 pc), Maruti Suzuki (3.10 pc), Bharti Airtel (2.96 pc), HDFC Bank (2.71 pc), BHEL (2.62 pc), M&M (2.50 pc), DLF (2.41 pc), Jindal Steel (2.26 pc), Wipro (2.14 pc) HDFC Ltd (1.72 pc), Infosys (1.66 pc), RIL (1.54 pc), ITC (1.38 pc) and L&T (1.24 pc).

Buying was so strong that all the 13 sectoral indices ended with gains of between 3.26 pc and 1.14 pc. Bankex spurted 3.26 pc, Power by 3.04 pc, Metal by 2.49 pc, Teck by 2.44 pc, IT 2.30 pc, Auto by 2.12 pc and PSU by 2.08 pc.

The total market breadth on the BSE remained positive as 1,757 stocks closed in the green, while 1,030 were in the red.

The total turnover was relatively higher at Rs 2,271.35 crore from Rs 1,962.12 crore yesterday.