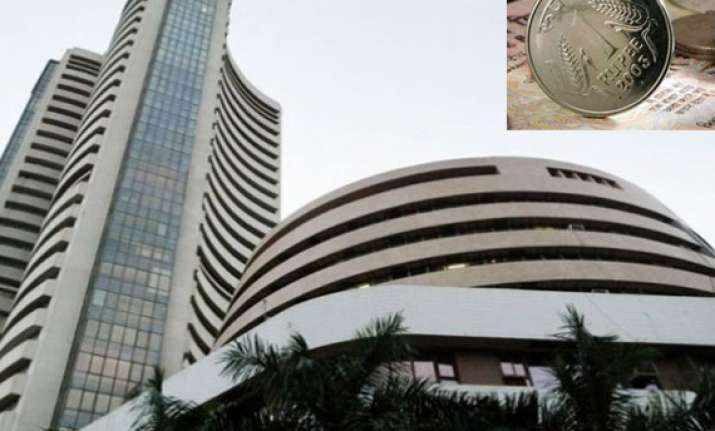 New Delhi: Indian equity markets opened on a weak note on Wednesday with benchmark indices plunging by over 2 per cent each, on sustained selling by FIIs on fears of burgeoning fiscal deficit and a weakening rupee. Profit-booking was seen in rate-sensitive, capital goods and oil & gas stocks.
At 10:15 am, the S&P BSE Sensex was at 17,611.31, down 356 points or 1.99 per cent. It touched a high of 17,851.44 and a low of 17,729.10 in trade today.
The wide-based Nifty was at 5,171.55, down 115.90 points, or 2.19 per cent. It touched a high of 5,236.05 and a low of 5,206.45 in early trade.
On Wednesday, the Indian rupee hit a record low of 67.52 against the US dollar as dollar outflows continued from emerging markets.
Domestic sentiments were dampened by a falling rupee and geo-political tensions across the globe including the possibility of US going for a military action against Syria.
The S&P BSE Midcap Index was down 1.19 per cent and the S&P BSE Smnallcap Index slipped 0.76 per cent.
The S&P BSE Bankex fell 2.51 per cent, the S&P BSE Oil & Gas Index was down 2.18 per cent, the S&P BSE Realty Index declined 1.99 per cent and the S&P BSE Capital Goods Index was 1.93 per cent lower.
The S&P BSE IT Index was up 1.43 per cent and the BSE Metal Index gained 0.81 per cent.
The foreign institutional investors sold shares worth Rs 1,373.99 crore while domestic institutional investors were net buyers worth Rs 480.5 crore on Tuesday as per the provisional data from the National Stock Exchange.
The Asian markets were also weak on Wednesday as credit risk jumped and oil prices were up.
Japan's Nikkei plunged 317.87 points or 2.35 per cent to 13,224.50, Hong Kong's Hang Seng plummeted 347.65 points or 1.59 per cent to 21,527.10 and Australia's S&P/ASX 200 shed 60.72 points or 1.18 per cent to 5,080.50.