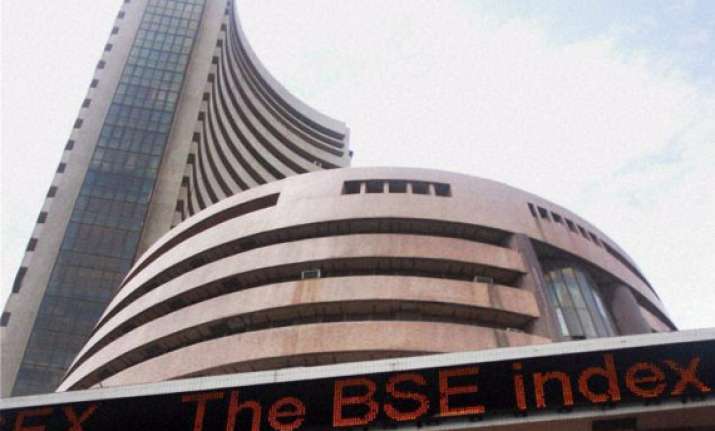 Mumbai, Apr 16: The BSE Sensex gained over 56 points at 17,151 today as investors bought equities amid expectations of rate cut by RBI at the annual credit policy announcement tomorrow, with banking and realty stocks making gains, as inflation eased marginally.
Auto, capital goods and FMCG were also in demand on hopes that the Reserve Bank will cut repo rates - at which it lends to banks - by 0.25 per cent, signalling an end to the tight money policy stance to revive growth.
RBI raised lending rate 13 times between March 2010 and October 2011 to tame inflation, which eased marginally to 6.89 per cent last month, from 6.95 per cent in February. It was 9.68 per cent in March last year.
Besides, sustained foreign capital inflows and higher cues from European markets boosted investor sentiment.
The BSE 30-stock index, Sensex, opened the day lower at 17,047.87 and declined further to 17,010.16.
Later, it recovered to 17,173.06 before settling at 17,150.95 -- up 56.44 points or 0.33 per cent from Friday's close.
The NSE 50-stock index Nifty moved up 18.75 points or 0.36 per cent to close at 5,226.20.
In Europe, key markets in France (CAC), Germany (DAX), were up, while while UK's FTSE was down.
Shanu Goel, Research Analyst at Bonanza Portfolio said, "Market is expected to be highly volatile tomorrow as RBI's annual policy meeting will determine the short term trend of the market, which is expecting at least 25 bps (0.25 per cent) cut in the rates. Any adverse or positive surprises on that account will lead to volatile session."
Positive trend in European markets led markets to close the day on positive note, she said.
Asian markets closed lower with key indices in China, Hong Kong, Japan, South Korea and Taiwan down by up to 1.74 per cent. Singapore was up marginally.
In all, 15 stocks advanced and 14 decline, while Wipro closed unchanged. Tata Motors shot up 3.91 per cent, followed by SBI (2.44 pc), ITC (2.07 pc), L&T (1.54 pc), Maruti Suzuki (1.41 pc), ICICI Bank (1.02 pc) and Tata Steel (0.97 pc) and Bhel (0.87 pc).
However, Bharti Airtel fell 1.74 pc, Infosys (1.41 pc), Sun Pharma by (1.20 pc) and HUL (0.68 pc).
Among sectoral indices, the BSE-Auto rose 1.31 pc, Bankex 1.22 pc, Capital Goods - 1.10 pc, Realty - 1 pc and FMCG - 0.97 pc.
The total market breadth at the BSE turned positive, as 1,551 stocks gaining ground, while 1,223 finished with losses. 
The total turnover dropped sharply to Rs 1,799.55 crore from Rs 2,961.77 crore on Friday.