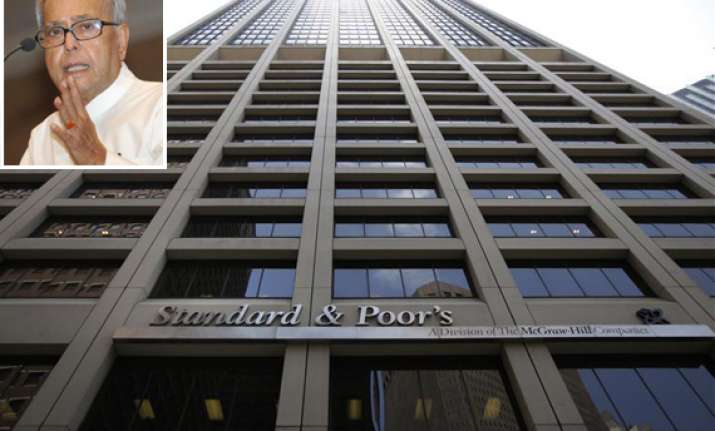 New Delhi, Apr 25: Stock markets  reacted negatively on Wednesday morning as reports came in about global ratings agency Standard & Poor's  reducing  India's outlook from stable to negative.
The S&P report cited Indian government's large fiscal deficit and expectations of modest progress on financial sector reforms as the reasons behind the downgrading.  
The lowered outlook jeopardises India's long-term rating of BBB-, which is the lowest investment grade rating.
"The outlook revision reflects our view of at least a one-in-three likelihood of a downgrade if the external position continues to deteriorate, growth prospects diminish, or progress on fiscal reforms remains slow in a weakened political setting," S&P credit analyst Takahira Ogawa said in a note.
India's 10-year bond yield rose 4 basis points to 8.63 percent, while the rupee weakened to 52.64 against the dollar from 52.48 before the action.
The stock markets were hit  with the BSE sensex  falling by 0.9 per cent in the morning.
Reacting to the S&P report, Finance Minister Pranab Mukherjee said, there was no need to panic, though the government was concerned.
Talking to mediapersons, Mukherjee said, perhaps S&P downgraded India's outlook on two considerations.
"One, they do not believe Indian economy will achieve 7 pc growth rate, their estimate is it could be 5.3 pc. Two, they do not believe our fiscal deficit will be 5.1 pc for the financial year 2012-13.
"Because of these two reasons and the delay in the process of legislation, particularly on financial sector reforms, they have downgraded.
"We will be able to control fiscal deficit and we hope it will be 5.1 pc. On the legislation front, Direct Tax Code will be cleared in the next session of Parliament, and other financial reforms bills are likely to be approved towards the latter part of this session.
"I do not feel there should be any reason to be panicky, but we will take note of this timely warning. Our economic reforms will be on track ", Mukherjee said.
India's fiscal deficit swelled to an expected 5.9 percent of GDP in the fiscal year that ended in March, far above the government's 4.6 percent target, the S&P report said.
Many economists believe New Delhi will have a tough time hitting its target of cutting the deficit in the current fiscal year to 5.1 percent of GDP, given a hefty subsidy burden and a weakened government that has failed to push through significant reforms.
The general elections looming in 2014 are expected to limit the prospects for significant reforms that would improve the investment climate and India's fiscal position.
"The writing was on the wall given the country's weakening debt profile and sluggish investment climate," said Radhika Rao, economist at Forecast Pte in Singapore.
"With the coveted investment grade now at risk, one can only hope this acts as a wake-up call for the government," she said.
Moody's has a Baa3 rating on India, while Fitch rates India BBB-. Both are also the minimum investment grade ratings. Moody's in December issued a stable outlook for India.