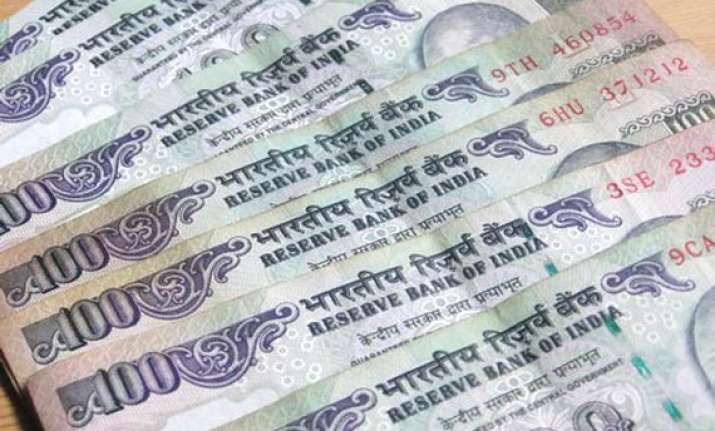 Mumbai, Dec 7: The rupee fell for the second day today losing 30 paise to close at 51.71/72 against the US dollar following sustained dollar demand from importers and late weakness in local stocks.

At the Interbank Foreign Exchange (Forex) market, the rupee had resumed higher on hopes of increased capital inflows and initial firmness in stocks.

However, it fell sharply at the fag end due to late profit-booking in local stocks amid good dollar demand from importers to settle at 51.71/72, down of 0.58 per cent.

In a volatile trading, the BSE benchmark Sensex closed higher by 71.73 points, or 0.43 per cent, on late selling. At the day's high, it was up by almost 200 points.

The dollar index, an indicator of six major currencies, was up by nearly 0.15 per cent while New York crude oil was trading above USD 101 a barrel in European market today.

"Looking at the global scenario one can expect rupee to trade near 52.00 levels in coming days and the trading range for the Rupee will be 51.25 to 51.75 tomorrow," Pramit Brahmabhatt, CEO, Alpari Financial Services (India) said.

FIIs pumped in USD 41.23 million on December 5 as per the Sebi data.

"The euro is losing its shine in spite of the expected confidence boosting measures by the policy makers in the upcoming EU summit on the coming Friday. Our target is firm at 52.50 levels for the USD INR pair," Abhishek Goenka, CEO, India Forex Advisors said.

The rupee premium for the forward dollar continued its north-bound journey on consistent paying pressure from banks and corporates.

The benchmark six-month forward dollar premium payable in May fell back to 121-123 paise from Monday's close of 124-1/2-126-1/2 paise and far-forward contracts maturing in November also dropped to 198-200 paise from 208-1/2-21-/1-2 paise previously.

The Reserve Bank fixed the reference rate for the US dollar at Rs 51.4490 and for the euro at Rs 69.1235.

The rupee dropped further against the pound sterling to end at Rs 80.70/72 from Monday's level of Rs 80.36/38 and also declined to Rs 69.19/21 per euro from Rs 69.03/05 previously.

It moved down further against the Japanese yen to Rs 66.55/57 per 100 yen from last close of Rs 65.88/90.