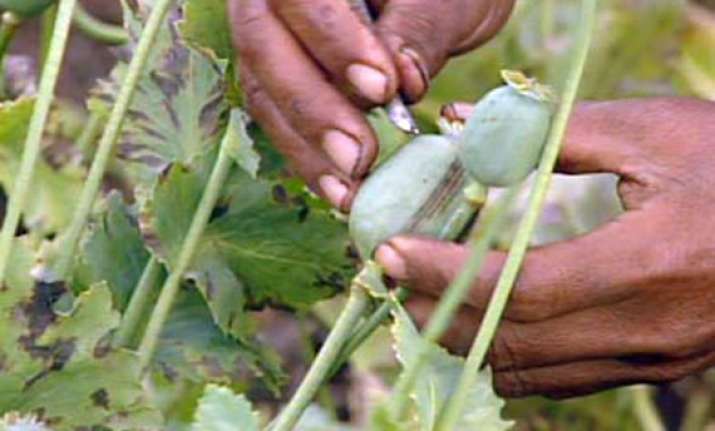 Itanagar, June 1: Opium trade, banned by the government, goes on unchecked in the districts of eastern Arunachal Pradesh where cultivation of poppy plants is widespread, causing concern to the authorities.
Changlang is one of the districts where poppy plants are cultivated extensively despite periodic raids by the district police and men of the Narcotics Control Bureau (NCB).
After one such raid in which a large chunk of the poppy plantations was destroyed, the Union Home Ministry's announced cash reward to the Changlang police.
In Tirap, Lohit, Lower Dibang Valley and Anjaw districts, poppy cultivation similarly goes on unabated notwithstanding raids from time to time while illicit drugs, including brown sugar, from the infamous 'Golden Triangle' find their way there.
An NCB team and the state police last year destroyed 470 hectares of illicit poppy plantations and destroyed about 2,350 kg of raw opium under the leadership of SP Tume Amo in the Khimiyong circle of Changlang district.
At Roing, the headquarters of Lower Dibang Valley district, people smoke opium in public gatherings or functions, raising nobody's eyebrows.
A local panchayet leader Anjite Menjo said, "It's a sign that opium is becoming a routine addiction. A few years back, such sights were rare in social gatherings."
He said that within a span of five to six years, opium addiction in the district had grown drastically, to the extent that it was being sold openly in various pockets of Roing town like Cheta, Mayu, Intaya and Asali.
A 2010-11 survey by the Delhi-based Institute for Narcotics Studies and Analysis (INSA) has revealed an alarming situation on drug abuse in Lower Dibang Valley, besides Lohit, Anjaw, Changlang, Tirap and Upper Siang districts.