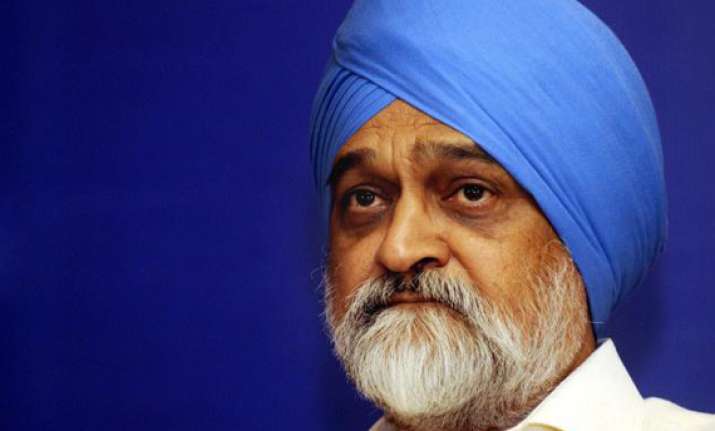 Mumbai, Jun 9: Planning Commission Deputy Chairman Montek Singh Ahluwalia on Friday pegged the growth forecast for the current fiscal at 6.5-7 per cent saying economic recovery is expected only in the second quarter.
"It wouldn't surprise me if we don't achieve the 7.5 per cent growth which we were talking about. On the other hand, somewhere between 6.5 and 7 per cent is quite possible, if all the steps which we have taken, work," he said at a Skoch event here.
On the possibility of a recovery, Ahluwalia said, "I am expecting that we will see a turnaround, if not in the first quarter, then second quarter onwards."
The economic growth rate during 2011-12 slipped to a nine-year low of 6.5 per cent. The growth rate for the January-March 2012 quarter to declined to 5.3 per cent.
The Finance Ministry had projected the growth rate for the current fiscal at around 7.6 per cent, which may be difficult to achieve in the backdrop of global economic slowdown.
The recovery, Ahluwalia said, would "happen gradually... you get a gradual slowdown and a gradual recovery. It's quite clear that growth has decelerated...more than we thought it would."
Referring to inflation, he said, "it (inflation) is not in double digits, but it's not what I will call as comfortable. I would have liked it to be at least one percentage point lower."
The headline inflation, based on movement in wholesale prices, for April was at 7.23 per cent, up from 6.89 per cent in March. Retail inflation, however, was in double digits, at 10.36 per cent, for April, up from 9.38 per cent in the previous month.
On crisis in Greece, Ahluwalia said, "it's premature to be worrying about that. Markets are integrated (and) I am sure European countries are themselves aware (about the need) to build firewalls."
He further said that the Current Account Deficit (CAD), which is the difference between inflow and outflow of foreign exchange, would "be a lot easier this year."
The CAD is estimated to be 4 per cent of Gross Domestic Product (GDP) during April-December 2011-12 as against 2.7 per cent in the previous fiscal.
On whether the government was planning to float sovereign bonds to improve flow of overseas funds into the economy, Ahluwalia said, "I don't think the government is planning on a sovereign bond issue".
The government, it may be mentioned, had in the past raised funds through overseas bonds to tide over the difficult balance of payment situation.