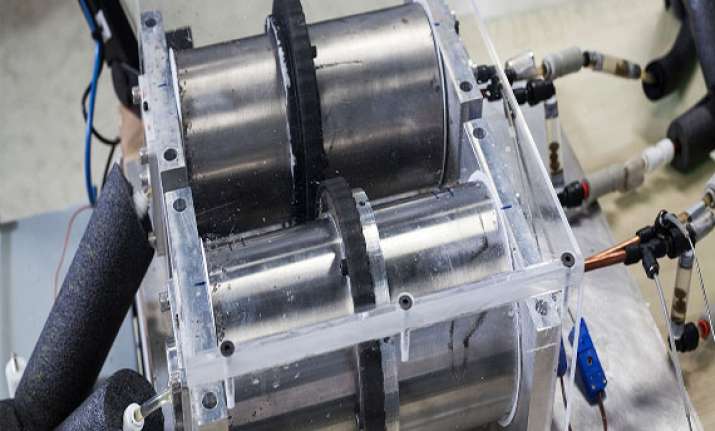 New Delhi: Within a decade, we could be using much more energy-efficient refrigerators than what we have today as researchers have now identified a new "universal" property of metamagnets, unleashing its potential applications for several items of everyday use.
Metamagnets are metal alloys that can undergo dramatic increases in magnetisation when a small external magnetic field is applied, such as from a permanent magnet or an electromagnet.
The magnetic effect of apparently all metamagnets is that it is non-linear, discovered the scientists.
When these metamagnets are placed in an initial magnetic field and the field is doubled, they more than double in magnetic strength.
"A very useful property of this type of magnetism is in magnetic refrigeration," said Bellave Shivaram, a professor of physics at University of Virginia.
Currently, metamagnets produce efficient cooling only at very low temperatures, using superconducting magnets, making them impractical for general refrigeration.
"With the new discoveries of the properties of metamagnets, they could become part of everyday home appliances within a decade or so," Shivaram added.
Current refrigerators are among the biggest consumers of energy in the home.
They include several moving parts which make them costly to repair and they can leak fluorocarbons into the atmosphere, which can deplete ozone.
"Refrigerators of the future, using metamagnets, would have fewer moving parts, would not require refrigerants, and, likely would use less electricity," Shivaram noted.
"In these new materials, the magnetism can be cycled on and off, enabling heat to be pumped away in a manner similar to what happens in a heat pump today," he explained.
Discovery of the new property of metamagnets could also lead to more efficient heat pumps and airport scanners, perhaps within a decade, the researchers emphasised.
The findings appeared in separate papers in the journals Physical Review B: Rapid Communications and Review of Scientific Instruments.