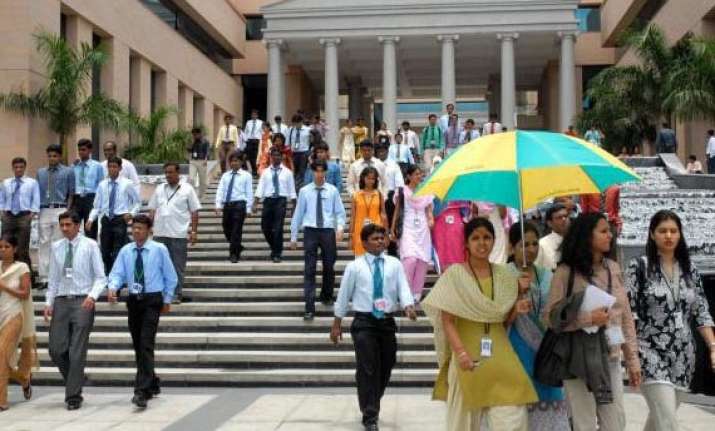 New Delhi, Feb 24:  Seeking to reward their staff amid an uptrend in the stock market, top blue-chip companies like HDFC Bank, ITC, L&T, Kotak Mahindra Bank and Wipro have awarded crores of shares to their employees and many more such equity offerings appear to be in the pipeline.
As the financial year 2012-13 draws to an end next month, 20 of the country's biggest blue-chip firms have together allotted shares worth nearly Rs 5,500 crore to their staff this fiscal upon the exercise of employee stock options.
During the remaining period of the current year, thousands of crores worth equity shares might be further allotted as both the companies and employees tend to prefer exercise of stock options towards the fiscal-end and during a rising equity market.
The market benchmark Sensex has appreciated by over 11 per cent so far in the current fiscal, while the gains were much higher before some correction and consolidation in the stock market during the recent weeks.
Among the top firms, premier private sector lender HDFC Bank has allotted 2.55 crore shares worth over Rs 1,680 crore to employees and FMCG major ITC has allotted 3.78 crore shares (Rs 1,104.89 crore) to their respective employees.
Among those leading the pack, housing finance giant HDFC has also given 1.14 crore shares (Rs 916.67 crore) and engineering and infrastructure conglomerate L&T has allotted 29.87 lakh shares (Rs 428.50 crore), data compiled from stock exchange filings show.
Most of the listed companies have Employee Stock Option Plans under which employees receive the right to purchase a certain number of shares in the company at a pre-determined price. This is given as a reward for their performance and also acts as a motivation tool for employees.
Employees typically have to wait for a certain duration known as vesting period before they can exercise the right to purchase the shares.
Kotak Mahindra Bank with 41.74 lakh shares (worth Rs 277.48 crore), Axis Bank with 18.61 lakh shares (Rs 262.12 crore), HCL Technologies with 25.92 lakh shares (Rs 179.91 crore), Wipro with 39.83 lakh shares (Rs 165.52 crore) and Ambuja Cement with 71.29 lakh shares (Rs 135.46 crore) are also among the firms that allotted scrips worth at least Rs 100 crore at current prices in this fiscal year.
Major companies which allotted shares worth at least Rs 10 crore to employees in 2012-13 financial year include ICICI Bank (Rs 73.85 crore), Lupin (Rs 51.22 crore), Dr Reddys Lab (Rs 49.76 crore), IDFC (Rs 36.90 crore), Hindustan Unilever (Rs 25.44 crore), Ranbaxy (Rs 22.05 crore), UltraTech (Rs 20.21 crore) and Grasim (Rs 14.31 crore), data shows.
Besides, DLF, Infosys and Hindalco Industries also gave employees currently in Rs 1-6 crore range.