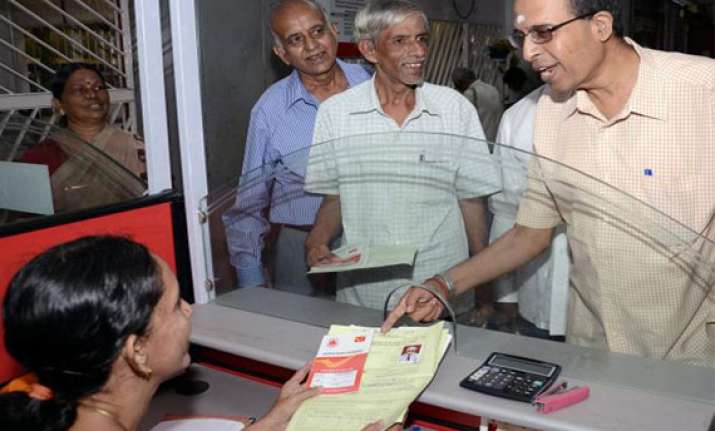 New Delhi, Mar 26: The government today raised interest rates on post office-operated small savings like Monthly Income Scheme (MIS) and Public Provident Fund (PPF) by up to 0.5 per cent, making them more attractive to investors.  
Interest rates on time deposits of one and two years have been increased by 0.5 per cent each to 8.2 per cent and 8.3 per cent respectively, while rates for popular MIS has been hiked by 0.3 per cent to 8.5 per cent, an official release said.
Interest rate on PPF has been increased by 0.2 per cent to 8.8 per cent.
The new rates will be effective from April 1, 2012 and will remain valid during 2012-13.
There has been no change in the savings deposit rate which has been retained at 4 per cent.
Interest rate for three-year time deposits has been increased from 8 per cent to 8.4 per cent. Similarly, interest rate on five-year time deposit has been raised from 8.3 per cent to and 8.5 per cent.
The five-year recurring deposits will fetch an interest of 8.4 per cent as against 8 per cent at present.  
The rate for senior citizens savings scheme (SCSS) has been hiked to 9.3 per cent from 9 per cent.  
The National Savings Certificates (NSC) having maturity of five and ten years will now attract 8.6 per cent and 8.9 per cent, respectively, up 0.2 per cent each.  
The hike in interest rates on small savings schemes is based on the recommendations of the Shyamala Gopinath Committee which had suggested linking of interest rates on small savings with that of the market.
The panel had also suggested that the interest rates on small savings schemes should be revised annually.  
The revision in the interest rates will help in maintaining the attractiveness of the small savings schemes vis-a-vis fixed deposit schemes operated by banks.  
The government as part of economic liberalisation process had freed the interest rates on banks deposits giving freedom to lenders to fix rates depending upon the asset-liability position, but continued to fix rates for small savings schemes.
Pursuant to the recommendations of the Gopinath Committee, the government had also introduced the National Savings Scheme (NSC) with a 10-year maturity to attract long-term funds. It will now yield a return of 8.9 per cent.  
The government had earlier raised annual investment ceiling in PPF savings to Rs 1 lakh from Rs 70,000. The PPF scheme has now been made more attractive and will provide a return of 8.8 per cent.