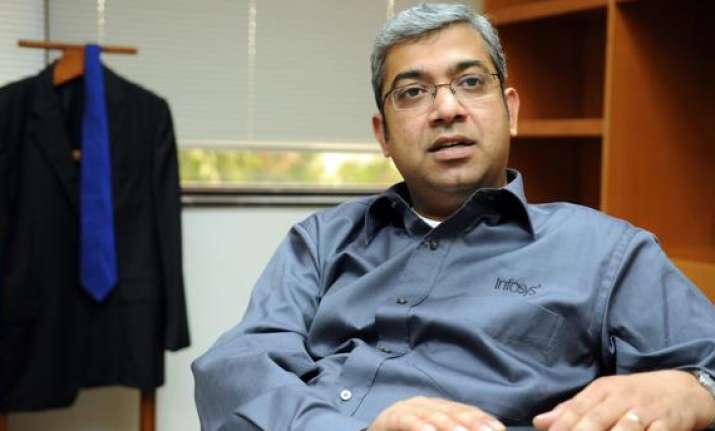 New Delhi: Infosys board member Ashok Vemuri, who was seen to be among the contenders to succeed CEO S D Shibulal, has quit Infosys, another of the company's seven co-founders, when his term ends in mid-2015. He is likely to join iGate as CEO, but this could not be confirmed.
A St Stephen's, Delhi, and IIM-Ahmedabad alumnus, Vemuri is the second-highest paid executive in Infosys. He was the head of the company's America operations, the company's largest region in terms of clients and revenues, and the global head of its manufacturing and engineering services vertical.
"Ashok has been an integral part of the Infosys journey over the last fifteen years. He has played a significant role in building the company's market leadership in the financial services and manufacturing verticals and in North America," the company said in a statement.
Ever since Murthy retuned as executive chairman on June 1, the company has witnessed an exodus of senior executives, including global head of sales and marketing Basab Pradhan and Sudhir Chaturvedi, head of financial services in the Americas.
Vemuri's replacement has not been announced, but the company said a transition plan was in place. Vemuri's exit is effective September 12. Infosys also said Sanjay Jalona, currently the regional head for manufacturing in North America, would take over as the global head of manufacturing.
Murthy had earlier said he will take tough decisions to restore the company's fortunes over the next three years and refocus it on winning large outsourcing contracts.
A strategy to raise revenue from software products and consulting, at the expense of large outsourcing contracts, contributed to a series of disappointing results over the last two years.
Earlier, Murthy brought in his son Rohan Murty, a Harvard graduate, as executive assistant, a move seen at odds with the company practice of not involving the children of the founders in senior management.