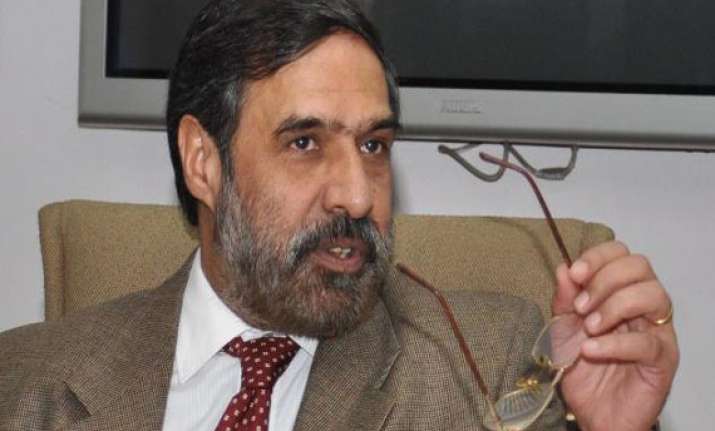 ONBOARD PM'S SPECIAL AIRCRAFT: India took the hardest hit during the recent financial market turmoil, but the country has also staged the "strongest recovery", Commerce and Industry Minister Anand Sharma said today.
Despite all the volatility, Indian markets have sharply rebounded, he added.
"In the last few months, despite all the volatility, our markets have rebounded sharply. We took the hardest hit, but we have also staged the strongest recovery in markets as well as currency values.
"The stronger recovery has been of India's, which is not being talked about," he told reporters on the way back from Indonesia as part of Prime Minister Manmohan Singh-led high- level delegation.
Uncertain global economic conditions, combined with outflow of foreign funds from stock markets, among other factors, saw rupee plunging to nearly 70 against the US dollar. Besides, there were significant volatility in the capital market.
However, in recent weeks, the rupee has recovered and is trading at little over 60-level against the dollar. The government has also initiated various measures to boost the economy.
Stating that growth in FDI has been robust, Sharma said in the last four years, the country received USD 174 billion, whereas the total flows were USD 296 billion since 2000.
"This year as well, we are doing very well on FDI front, and therefore the CAD (Current Account Deficit) issue will be addressed.
"Also, we have brought down the unnecessary imports and the exports have been in positive double digit growth in last three months," the Minister said.
On whether there would be interest rate cuts for the industry, Sharma said it would depend on many factors and the decision was to be taken by the Reserve Bank of India.
"However, the government is expanding the list of priority sectors that would get interest rate subvention, so that the issue is covered in a different manner and the funds are not a problem for important sectors," he said.
Regarding the latest industrial production numbers, Sharma said that it "takes time for the sentiments to improve and the manufacturing sector to rebound".
Industrial production growth rate dropped to 0.6 per cent in August after some signs of improvement in the previous month.