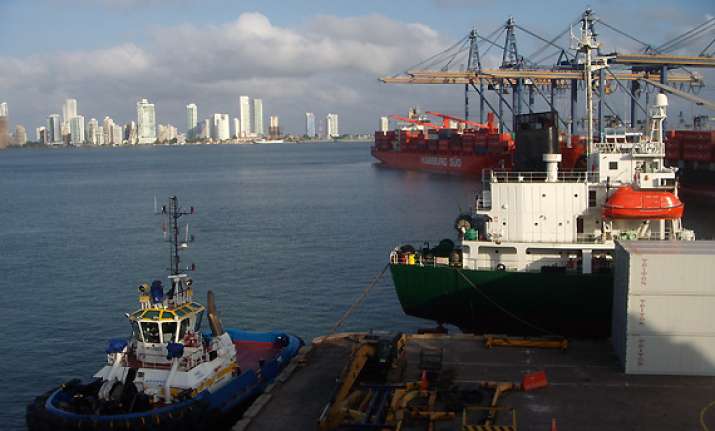 New Delhi, Feb 9: India's exports growth rate recorded a marginal increase in January over the previous month with the overseas shipments expanding by 10.1 per cent year-on-year to USD 25.4 billion despite weak demand in the western markets.

Pushed by expensive crude oils and vegetable oils, imports grew at a faster rate of 20.3 per cent to USD 40.1 billion, leaving a trade deficit of USD 14.7 billion, Commerce Secretary Rahul Khullar told reporters here while giving provisional figures today.

The shipments had grown by 6.7 per cent year-on-year in December 2011.

According to Khullar, the problems in the US and Europe are clearly weighing down on the country's exports.  From a peak of 82 per cent in July 2011, export growth has slipped to 44.25 per cent in August 2011, 36.36 per cent in September 2011 and 10.8 per cent in October last year.

But, for the cumulative April-January period, exports aggregated to USD 242.8 billion showing a healthy growth of 23.5 per cent, thanks to sterling trend witnessed in the previous months of the current fiscal.

"What you are looking at now, is exports for the fiscal of around USD 300 billion, imports at about USD 460 billion with a balance of trade of about USD 160 billion," he said.  Steady rise of 29.4 per cent in imports for the ten-month period to USD 391.5 billion has left trade gap widening to USD 148.7 billion.

"Imports are still buoyant because of high prices of crude oil and vegetable oil...trade deficit is large but my guess is that it will narrow down in the next two months," he added.

He also said that 2012-13 would be difficult year for exporters.

Exporting sectors which registered healthy growth in April-January include engineering and petroleum. Engineering and petroleum exports grew by 21 per cent and 51.1 per cent to USD 49.7 billion and USD 48.9 billion, respectively.

Gems and jewellery exports increased by 33 per cent to USD 37 billion, readymade garments by 21.5 per cent, electronics by 13.4 per cent, drugs by 21.1 per cent, leather by 23.4 per cent and marine products by 31.6 per cent.

On the other hand, imports of petroleum products increased by 38.8 per cent to USD 117.9 billion, gold and silver by 46.6 per cent to USD 50 billion, machinery (25.8 per cent), electronics (22.9 per cent), coal (69 per cent), iron and steel (12 per cent), ores and scraps (43.9 per cent).

Commenting on the fiscal year 2012-13, Khullar said that due to reasons like prevailing uncertainty in the US and Europe economy, that year would also be difficult for India's exports.

"Consumers and investors confidence are also not booming.  My fiscal room for manouver has gone. You have a tight fiscal situation, who is going to give you sops. If you will manage 20 per cent growth in 2012-13, it will be damn good," he said.  For the current fiscal as well, he said at time when the forecast for global trade growth is in single digit, India's exports growth is good.

FIEO President Rafeeque Ahmed too said that these figures clearly indicate that 2012 would be a difficult year for exports in view of growing uncertainty in the Euro Zone, slacking of demand in other advance economies and third country effect on our exports to emerging economies.

Ahmed suggested the government to provide interest subvention of over 3 per cent to bring the export credit at affordable rates.