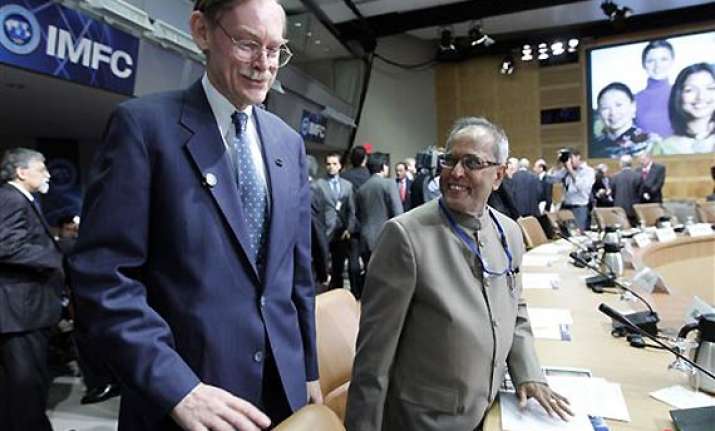 Paris, Oct 14: Sovereign debt problems in Eurozone and slow recovery in the US are taking toll on the emerging economies, but the Indian economy may still clock over 8 per cent growth, Finance Minister Pranab Mukherjee said today.

"High sovereign debt of Eurozone and slow recovery of US and Japan are having adverse impact on emerging economies.  Hardly any emerging economy has achieved double digit growth," Mukherjee said. He is here to attend the G-20 ministerial meeting, ahead of the Cannes Summit in November.

Mukherjee was speaking to reporters after his bilateral meetings with French Finance Minister Francois Baroin and Australian Deputy Prime Minister Wayne Swan.

According to a latest IMF report, the risk to Asian economies has increased because of European debt crisis and slowdown in American markets.

Referring to the situation in India, Mukherjee said he is expecting the economy would grow by 8-8.2 per cent in the current fiscal. However, to achieve that goal, the gross domestic product (GDP) has to pace up in the last two quarters of 2011-12 fiscal.

"To achieve that (8.2 per cent growth), last two quarters must be 8 per cent plus. Otherwise average will not come because we were down in the first quarter," he said.

The Indian economy expanded by 7.7 per cent in the first (April-June) quarter of the current fiscal, its slowest pace in 18 months.

The sluggishness was evident in industrial production, which has come under pressure from high interest rates as the third largest economy in Asia is battling near double digit inflation.

However, services and agriculture sectors are managing the growth trajectory.