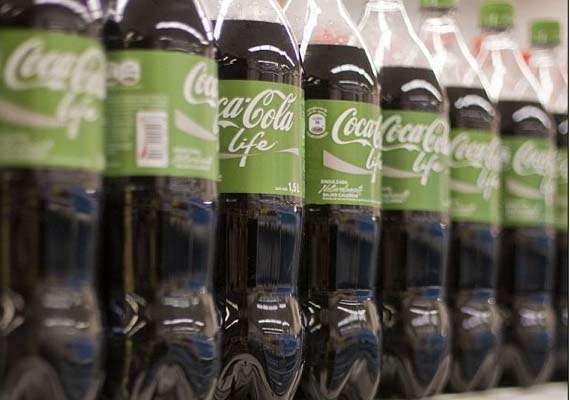 New Delhi, July 23: The Atlanta-based soda giant, Coca Cola, is going green. Well, its label is at least.
Coca-Cola has introduced in Argentina Coca-Cola Life, a "natural" cola that is made with a mix of sugar and Stevia, an extract from the leaves of a shrub in the chrysanthemum family that grows in Latin America. The new cola stands in the middle of the low calorie Diet Coke (or Coke Light in Argentina) and the regular Coke, and sports a new green background logo.
 "Coca-Cola Life is the first soda from the Coca-Cola family that is naturally sweetened with sugar and Stevia, which adds to our portfolio a delicious taste with a proposed low in calories," Coca-Cola wrote on its Argentinean website.
Argentina is already very aware of Stevia, which is produced in the South American nation. It's said to be as much as 400 times sweeter than table sugar, without the calories, which means soft-drink companies are falling all over themselves to use it. The Coca-Cola company is currently using stevia in 45 products worldwide.
In terms of packaging, Coca Cola says it's sold in a "PlantBottle" made of a plastic that's 30 percent vegetable fiber. Coke says it's 100 percent recyclable.
If the green Coca-Cola becomes popular, then it could soon arrive in stores in the United States and Europe soon.