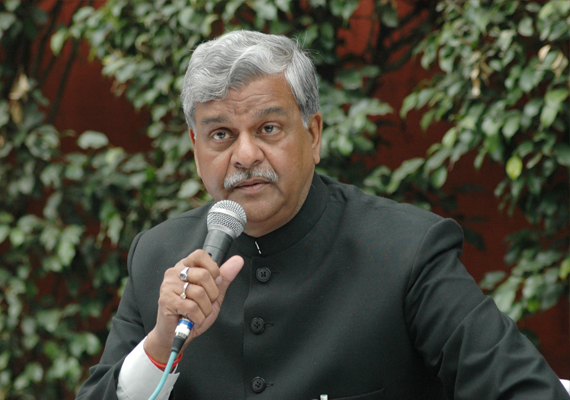 New Delhi, Aug 26: Coal Minister Sriprakash Jaiswal allocated 35 coal blocks without clearance from the screening committee since 2009, contrary to his claims, reports the Delhi weekly newspaper Sunday Guardian.
Hansraj Ahir, a member of the Parliamentary Standing committee on coal and steel, says, no meeting of the screening committee has been held since 2008, and the coal ministry thereby not only bypassed the auction option, but also departed from the existing system of allocation through the screening committee.
The Sunday Guardian report says, soon after the CAG report on coal block allocation was tabled in parliament, Jaiswal had claimed that allocations were made by the screening committee, which consisted of officials from seven ministries, including forest and railways, besides coal.
Ahir said, "The last screening committee meeting was held in 2008. But the government cleared 35 blocks after that. This clearly smacks of a major irregularity. I have written to Prime Minister Manmohan Singh in this regard, but so far I have not got any response from him."
In his letter dated Aug 20, 2012, Ahir says, "the mandatory condition of the sanction of the screeming committee for the allotment of the coal blocks was also violated by the ministry and it has been informed that as many as 35 coal blocks have been alloted to private companies without the sanction of the Screening Committee."
It further says: "Considering the loss to the government and the violation of the government norms for sanction and allotment of the coal blocks, the government needs to cancel the above said blocks and auction them freshly. So I request you to take immediate steps in the matter..."
It was Ahir's complaint to the Central Vigilance Commissioner which formed the basis of a CBI probe into the coal scam.
Another Parliamentary Standing Committee member P N Singh said, 'We had raised the issue in several meetings and were told by the officials that there was no meeting of the screening committee after 2008."
The companies that were alloted 35 coal blocks include:
-Jindal Steel and Power : Ramchandi Promotion Block
-Rughta Mines Ltd, Mednira
-Tata Steel Ltd, Ganeshpur
-Adhunik Thermal Energy Ltd, Ganeshpur
-AMR Iron & Steels Pvt Ltd, Bander
-JK Cement Lrd, Bander
-Sunflag Iron Steel Ltd, Khappa & Extension
-Dalmia Cement (Bharat) Ltd, Khappa 7 Extension
-Monet Ispat and Energy LTd, Rajgamar Dipside
-Topworth Steel Pvt Ltd, rajgamar Dipside
-IST Steel & Power Ltd, Dahegaon/Makardhokara
-Gujarat Ambuja Cement Lrd, Dahegaon/Makardhokra
-Lafarge India Pvt Ltd, Dahegaon/Makardhokara
-Bhushan Steel Ltd, Andal East
-Jai Balaji Industried Ltd, Andal East
-Rashmi Cement Ltd, Andal East
-Himachal EMTA Power Ltd, Gourangdih ABC
-JSW Steel Ltd, Gourangdih ABC
-Akaltara Power Ltd, Puta Porogia
-Akaltara Power Ltd, Pindrakhi
-Ramswarup Lohh Udyog Ltd, Moira Madhujore
-Adhunik Corporation Ltd, Moira Madhujore
-Rathi Udyog Ltd, Moira Madhujore
-Uttam Galva Steels Ltd, Moira Madhujore
-Howrah Gases Ltd, Moira Madhujore
-Vikas Metals & Power Ltd, Moira Madhujore
-ACC Ltd, Moira Madhujore
-Jindal Steel & Power Ltd, Urtan North
-Monet Ispat and Energy Ltd, Urtan North
-Sakhigopal Integrated Power co Ltd, Bankhui
-API Ispat & Powertech Pvt Ltd, rajgamar
-CG Sponge, rajgamar
-CIL (in JV) : Vijay central
-SKS Ispat : Vijay central