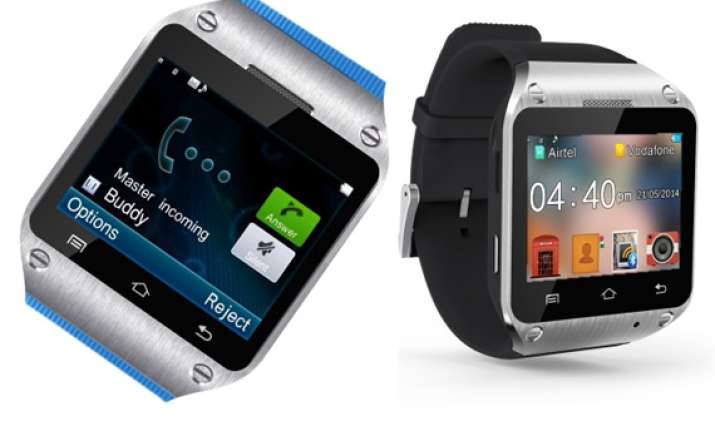 New Delhi: Spice Retail Limited, on Tuesday has introduced the country's first SIM enabled smart watch, Spice Smart Pulse M 9010. The dual-SIM device comes with 1.5-inch touchscreen with a 240x320 pixels resolution and allows functionalities such as make and receive call with the free Bluetooth headset provided, read and write SMS, and browse web. Spice has not specified the smartwatch's processor details.
The device costs Rs 3,999 and will be available exclusively through HomeShop18 from July 11 across India. 
"The Smart Pulse is innovative for its dual sim functionality, utilitarian for its Bluetooth pair ability and fashionable for the changeable wrist bands that come with it, a unique feature for this category. We, at Spice, gladly announce the take-off of the country's first wearable device in the category which will act as a second screen for your android phones and enhances your existing smartphone functionality as well. Being the first, among the domestic players, in the Indian market to launch a sim-enabled wearable device, Spice continues to stimulate demand in the market through its product innovations", said T M Ramakrishnan, CEO – Devices, Spice Retail Limited.
The Spice Smart Pulse M 9010 smartwatch comes with one digital (1.3-megapixel) camera for taking pictures. It supports an additional 8GB of storage expansion via microSD card, while the built-in storage is not specified by the company. It runs the company's proprietary Java-based operating system and can be paired with Android smartphones via BT notifier app offered by Spice. Once paired with a smartphone, users will be able to see notifications, receive calls, view call logs, read and write SMS, remote camera capture and music streaming.
Connectivity options include 2G (GPRS/ EDGE), and Bluetooth. It also has audio video player, FM radio and supports Hindi along with English language. The smartwatch comes with a 420mAh Li-Ion battery which is rated for up to 180 minutes of talk time and up to 2 days of standby time. 
Available in Black and Blue colours, the device comes bundled with a free Bluetooth headset and two different colour interchangeable wrist bands.