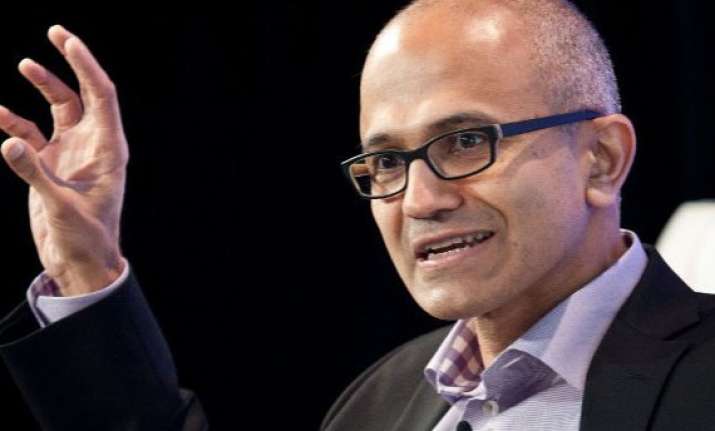 New Delhi: Microsoft CEO Satya Nadella is eliminating as many as 18,000 jobs, the largest round of cuts in its history — most leveled at its newly acquired Nokia division.
Out of this recent round of layoffs, 12,500, will come from Nokia's devices and services business. The cuts represent a big move by the freshman Nadella who said Microsoft needed to be more nimble and focused.
Of this retrenchment, Nokia will lose 12,500 employees (mostly tablet and phone staff) that had joined Microsoft when the software giant bought the cellphone manufacturer in a $7.17 billion acquisition in April of this year. The "vast majority" of the other positions will be "eliminated" over the next six months.
The layoffs, once complete, will eliminate slightly more than 14 percent of Microsoft's 127,100-employee workforce, 61,313 of whom are based in the United States.
At Microsoft, cuts will be in sales, marketing and engineering. The reductions are expected to be completed by June 30, 2015, and will result in a pretax charge of $1.1 billion to $1.6 billion, Microsoft said in a statement.
"[W]e are working to integrate the Nokia Devices and Services teams into Microsoft. We will realize the synergies to which we committed when we announced the acquisition last September. The first-party phone portfolio will align to Microsoft's strategic direction. To win in the higher price tiers, we will focus on breakthrough innovation that expresses and enlivens Microsoft's digital work and digital life experiences," Microsoft CEO Satya Nadella said in an email to employees published by the company.
The majority of eliminated workers will be notified in the next six months, Nadella said, while adding that the company wants to have fewer layers of management and will make changes to its outside vendor staff.
Nadella, who took over from Steve Ballmer in February, is restructuring the company as it seeks to compete with nimbler rivals offering mobile and Internet-based software and services.
Employee Demographics at Microsoft (2014)
Caucasian employees: 37,354
Asian employees: 17,677
Black employees: 2,074
Hispanic/Latino employees: 3,031
Other employees: 434
Multi-ethnic employees: 713

In presenting a glimpse of his blueprint, Nadella said he plans to facelift the way Microsoft organizes its engineers and will close a high-profile project that Ballmer launched to create television-like programming for its Xbox videogame game console. In a separate memo, Nadella said Microsoft will focus intently on improving its mobile and cloud productivity software, including Office 365, Windows Phone, Windows Azure, Skype, OneDrive and Bing.
In another major move, Nadella also halted work on a line of Nokia smartphones powered by the Android operating system, which had put Microsoft in the position of supporting the rival Google. The memo stated "…we plan to shift select Nokia X product designs to become Lumia products running Windows."  This means Nokia's foray into Android land with the Nokia X and the recent appearance of Nokia X2, were in reality a bit of miracle as Microsoft let two Android devices appear at all. Not surprisingly, select Nokia X products will be refitted with Windows Phone and continue as Lumia phones.
The cuts have drawn sharp criticism from Finland as Finnish Prime Minister Alexander Stubb called the layoffs "extremely regrettable" and said the government would do all it could to cushion the blow to those affected. Critics say Nadella should have gone deeper into the reshaping the company's huge operations ranging from phones, videogame machines and tablet computers to corporate-database software, Web advertising, video-calling services and PC operating systems.
A part of its retrenchment plan, Microsoft also announced that it will shut down Xbox Entertainment Studios (XES), the division responsible for original Xbox programming. On the chopping block are roughly 200 jobs in California and British Columbia. Xbox Entertainment's biggest projects were arguably Halo: Nightfall, an upcoming digital feature, and a Halo TV series staged in the popular sci-fi universe and produced by Steven Spielberg. However, it must be noted that XES closure will not mean an end to those projects or even of Microsoft's interest in original programming, but it means the scope for such projects will change.
Over and above the big job bombshell, Microsoft also announced that it would also cull the armies of vendors and contract workers that fill many jobs from security to engineering—but which don't show up in its workforce figures.
In his memo Nadella made it clear that he would eliminate layers of management to speed decisions, and change the company's engineering processes as part of a push toward "work simplification."
Going forward it would be interesting to see how Microsoft gives the direction to improve its mobile devices arm, where it is far behind industry leaders Apple and Samsung Electronics.