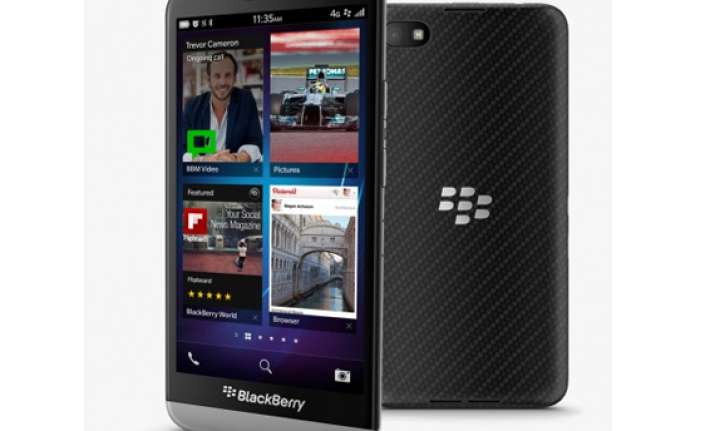 New Delhi: BlackBerry Ltd is all set to launch its new Z30 flagship smartphone on October 24 in India. The Z30 is likely to be priced below Rs 45,000.
BlackBerry Z30, also known as the A10 or A-Series under the codename 'aristo', was unveiled at an event in Kuala Lumpur, Malaysia last month.
The Z30 runs the latest 10 OS version 10.2, comes with a 5-inch display with 720 x 1280 pixels resolution, 8 megapixel rear camera and 2 MP front camera. The smartphone is powered by 1.7 gigahertz Snapdragon S4 Pro processor and has a 2880 mAh capacity removable battery. It has 2 GB of RAM along with an internal memory of 16 GB that can be expanded to 64 GB with microSD card.
The Z30 competes against the likes of iPhone 5S, Samsung Galaxy S4, along with other high-end Android devices.
BlackBerry, which says the Z30 as its 'biggest, fastest and most advanced smartphone' to date, is facing stiff competition in the smartphone marke. Recently the company reassured its restive customers and partners that it was financially stable and "here to stay," even though it announced massive layoffs and sources say it is in talks to sell all or part of the company.
In an open letter published in 30 news outlets across nine countries, the Waterloo, Ontario-based company stressed that its customers can continue to count on BlackBerry and its products, despite the challenges it is facing and the changes it is undergoing.