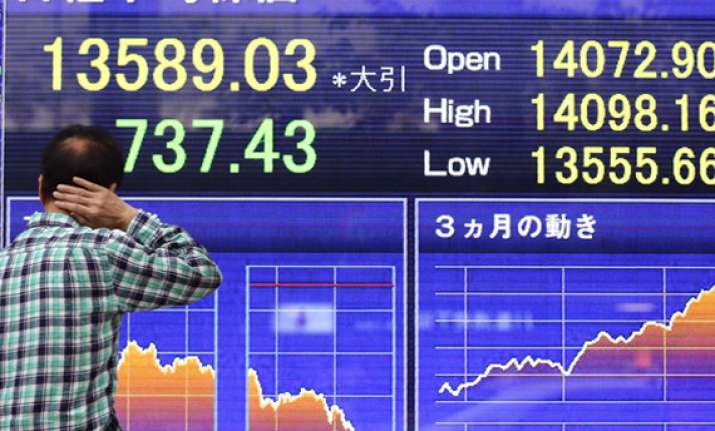 Hong Kong: Asian stock markets rebounded on Friday after encouraging economic data from China and Europe raised hopes that a global economic recovery was underway.
A survey released Thursday by HSBC Corp indicated that manufacturing in China had expanded in August, the latest evidence that the world's second-largest economy may be over its recent weakness. HSBC's preliminary purchasing managers index rose to 50.1 from July's 47.7 — crossing the critical 50 threshold to indicate an expansion in activity.
"This should reassure even the most bearish that China has avoided a hard landing for now," Qinwei Wang of Capital Economics wrote in an email commentary.
Japan's Nikkei 225 index jumped 2.8 percent to 13,738.82. Australia's S&P/ASX 200 advanced 1 percent to 5,128.70. South Korea's Kospi added 1.4 percent to 1,874.39. Hong Kong's Hang Seng rose 0.6 percent to 22,013.31.
Sam Le Cornu, portfolio manager at Macquarie Funds Group in Hong Kong, said the data supported arguments that the world's No. 2 economy should meet Beijing's official target of 7.5 percent growth for the year.
"For China specifically, the fundamentals remain sound," he said.
Additional good economic news came from Europe, where manufacturing and services for the 17 countries that use the euro climbed to its highest level since June 2011.
The eurozone's purchasing managers' index, a key gauge of growth in both the manufacturing and services sectors, rose to 51.7 points in August from 50.4 in July, according to financial information company Markit.
Japanese export shares rallied as the yen retreated against the dollar. A weaker yen lowers the cost of goods abroad while increasing the value of repatriated profits. Yamaha Motor Corp. surged 5.3 percent. Toshiba soared 5.5 percent.
On Thursday in New York, the Dow Jones industrial average ended a six-day losing streak, while a technical glitch halted trading on the Nasdaq for most of the afternoon. The Dow rose 0.4 percent to 14,963.74. The S&P 500 gained 0.9 percent to 1,656.96. The Nasdaq composite climbed 1.1 percent to 3,638.71.
Benchmark oil for October delivery rose 1 cents to $105.04 a barrel in electronic trading on the New York Mercantile Exchange. The contract gained $1.18 to close at $105.03 a barrel on the Nymex on Thursday.
In currencies, the euro fell to $1.3338 from $1.3365 late Thursday. The dollar rose to 98.98 yen from 98.72 yen.