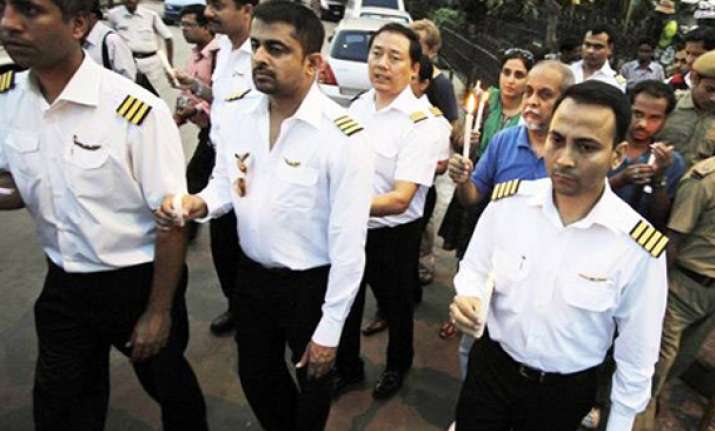 New Delhi, Jun 28: Agitating Air India pilots today urged Prime Minister Manmohan Singh and the Congress top brass to step in to resolve the impasse over the 52-day long strike, as the condition of some of them on protest fast worsened.  
The Indian Pilots' Guild (IPG), which is spearheading the agitation and the five-day-old hunger strike, shot off letters to Singh, Congress President Sonia Gandhi and General Secretary Rahul Gandhi, seeking their "urgent intervention to resolve the prolonged agitation".
With three pilots, who were on hunger strike since Sunday, being hospitalised yesterday following deterioration in their health, the condition of a few more in Delhi and Mumbai worsened.
The agitators got a shot in their arm with the International Federation of Air Line Pilots' Associations (IFALPA) extending support to them and urging aviation regulator DGCA to "make a positive contribution towards ending this dispute" by bringing both sides to the negotiating table.  
In a letter to DGCA chief E K Bharat Bhushan, IFALPA President Capt Don Wykoff said, "This is a very sad situation that is showing no signs of resolution and is surely in no one's interests.
"Therefore, whilst it is not our role to sit in judgement as to the rights and wrongs of the dispute that seem centred on issues arising from the Air India and Indian Airlines merger, we fell a duty to make every effort to find a solution which is both fair and acceptable to both sides."
Castigating the Air India management for maintaining "a stony silence" on finding a resolution to the prolonged imbroglio, IPG Joint Secretary Tauseef H Mukadam said in that the well-being of the airline was "essential if the aviation industry has to be an engine of economic growth".  
"Sadly, the (Civil Aviation) Ministry and the Air India management have proven to be incapable of handling the affairs of Air India," he said in identical letters.