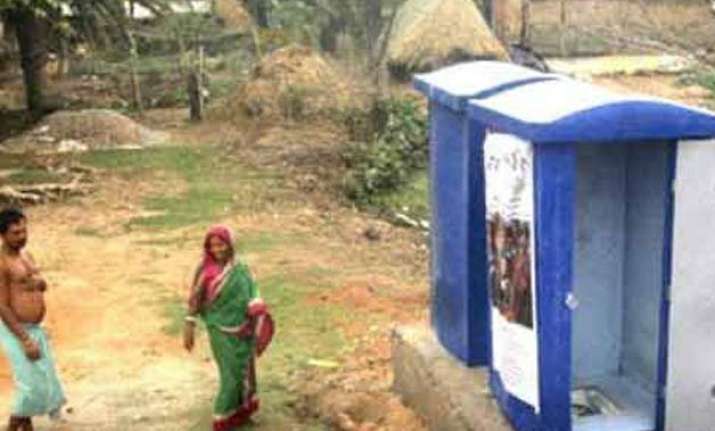 Of more than 110 million rural households without toilets across India in 2012, the government has been able to assist 11 million households in building toilets. That means, nearly 99 million households need toilets over the next four years, if the government is to meet the target set by the Swacch Bharat Abhiyan (Clean India Campaign) by October 2, 2019.
 
It also means the government will need to set aside lots more money. About 88% of the Rs 25,885 crore ($4 billion) that Delhi set aside over the last 15 years for various sanitation campaigns has been spent. The Swachh Bharat Abhiyan, launched on October 2, 2014 by Prime Minister Narendra Modi, is the latest such campaign, aimed at ensuring an open-defecation-free India by October 2, 2019.
 
More than 595 million Indians were defecating in the open in 2014, according to data released by UNICEF.
 
The Atal Bihari Vajpayee's government launched India's first official, nationwide sanitation programme, the Total Sanitation Campaign  in 1999.
 
This was later changed to Nirmal Bharat Abhiyan in October 2012.
The government now plans a legislation that allows the local governments to punish people who are found spitting, urinating and throwing garbage, thus hoping to provide legal teeth to the Swachh Bharat Abhiyan, which hopes to provide all rural households with toilets and kickstart solid- and liquid-waste management in gram panchayats (village councils).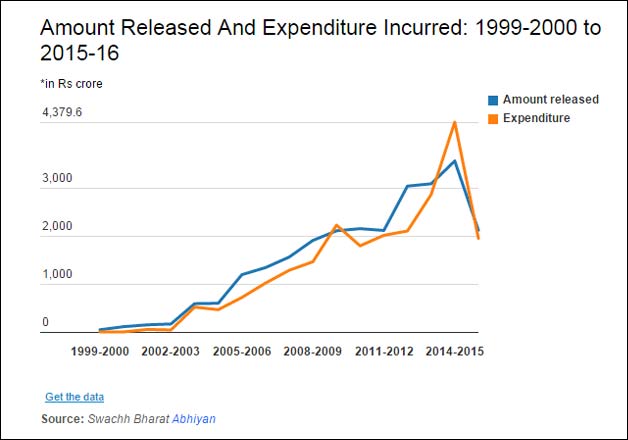 About 88% (Rs 22,918 crore) of Rs 25,885 crore allocated/released have been spent on sanitation till now.
 
The worst year was 1999-2001, the year Atal Bihari Vajpayee was the prime minister and no projects were executed during this time period: No money was spent, although Rs 156 crore was released. The high point, if you can say that, was 2014-15 when the spending skyrocketed to 123% of the allocation of Rs 3,569 crore: Rs 4,380 crore was spent.

With nearly 99 million households still needed by 2019, India will need to maintain the toilet-building pace and make money available.
 
Under Swachh Bharat Abhiyan, Rs 2 lakh is provided to schools or panchayats for the construction of community sanitary complexes. The incentive for the construction of individual household latrines has been raised from Rs 10,000 to Rs 12,000, with Rs 9,000  to be paid by Delhi and Rs 3,000 by the states.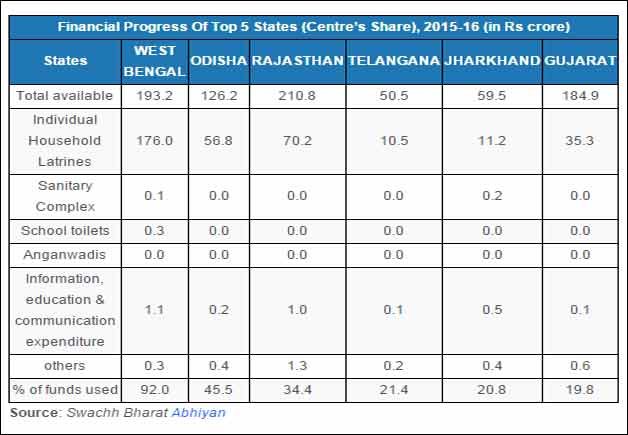 West Bengal has used almost 92% of available funds, followed by Odisha with 45%. Since the planning of the scheme now depends on the states, clearing projects takes longer.
 
Most of the Swacch Bharat money was spend on household toilets, followed by toilets in schools.
 
Dubious data: Nagaland spends 1,839% of money, Gujarat 227%
 
The data on states' share of spending on toilets is unclear. In some cases, such as Nagaland and Gujarat, the data reveal a fund utilisation of 1,839% and 227%, respectively.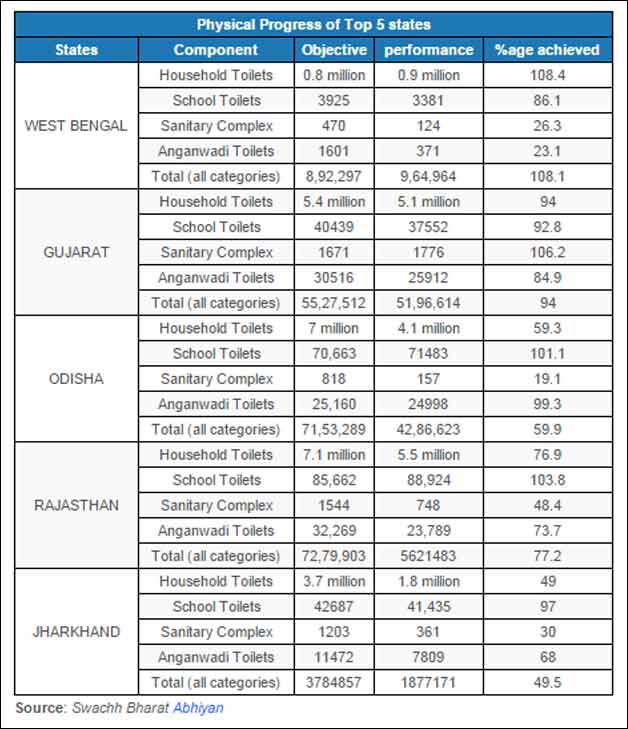 West Bengal has seemingly exceeded its mission objectives with the number of toilets built being 8% more than its target. Gujarat has met 94% of its target, while Jharkhand has achieved 49.5%.
 
IndiaSpend had earlier reported how Jammu and Kashmir did not use 96% of the money granted for the scheme and was 86% short of the 2014-15 target for household latrines.
(Indiaspend.org is a data-driven, public-interest journalism non-profit)