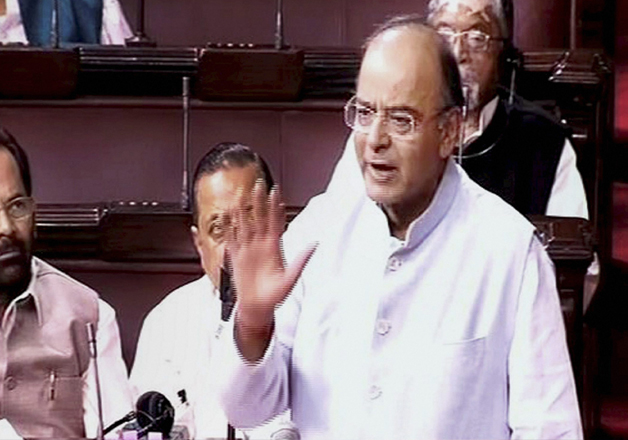 A full waiver of farmers' unpaid dues to banks was among one of the biggest election promises made by the BJP in Uttar Pradesh. But the newly formed Yogi Adityanath government in the state suffered a jolt on Thursday when the Centre ruled out such waivers and insisted that states should utilise their own resources in this regard.
Replying to a question raised by the Samajwadi Party MP Naresh Agarwal in the Rajya Sabha on Thursday, Jaitley said that the fiscal onus of such a loan waiver will be on the states. 
He said that the Centre has its own schemes under the budget and will not fund the waivers promised by the states from central funds.
"This issue (loan waiver) has cropped up in several states. The Centre has its policies for agriculture sector under which we provide interest subvention and other support. We will continue to give all that. If a state has its own resources and want to go ahead in that direction, it will have to find its resources. The situation where the Centre will help one state and not the others will not arise," Jaitley said.
It is worth mentioning here that Prime Minister Narendra Modi had during rallies repeatedly promised that the BJP, if voted to power, will waive off loans of small and marginal farmers. The same was also promised by the party in its election manifesto. 
When Agriculture Minister Radha Mohan Singh was quizzed about the development, he said that the BJP government in Uttar Pradesh will surely waive off loans as promised by the Prime Minister.
According to a recent report by the State Bank of India (SBI), the UP government will need Rs 27,419 crore to waive off loans of farmers. 
The last big farm loan waiver took place in 2008 when the Congress-led UPA government had announced a Rs 60,000 crore waiver package for farmers across the country. 
There has been demand for loan waivers from states such as Rajasthan, Maharashtra and Punjab too. The Congress has been demanded that the government announce a loan waiver for farmers across the country and not just for Uttar Pradesh where the BJP has returned to power after a gap of 14 years.