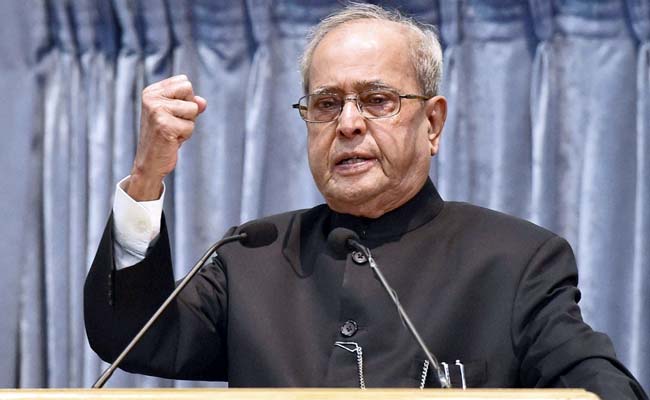 The ordinance to deal with the banking sector's non-performing loans and the amendment to the Banking Act received President Pranab Mukherjee's approval on Friday. 
The Cabinet had on Wednesday okayed the promulgation of an ordinance to amend Section 35A Banking Regulation Act to empower the Reserve bank of India (RBI) to effectively deal with the problem of mounting bad loans in in India's banking sector. 
The RBI which is empowered to take more effective decisions after President's nod, is expected to step in and announce a series of measures to resolve the issue. 
Currently, Section 35A of the act empowers the central bank to issue directions to lenders in public interest and depositors. 
But now, the amendment will empower the RBI to issue direction to banks to recover non-performing assets (NPAs) from loan defaulters.
Finance secretary Ashok Lavasa said that the proposed amendments would make the bad loan resolution process "more effective" and provide comfort to bankers in addressing the NPA issue.
Public Sector Banks (PSBs) are saddled with non-performing assets or bad loans to the tune of a staggering Rs 6 lakh crore.
Bad loans rose by over Rs 1 lakh crore in the first nine months of last fiscal to Rs 6.07 lakh crore by December 31, 2016.
Gross NPA of PSBs stood at Rs 5.02 lakh crore at the end of March 2016, up from Rs 2.67 lakh crore at the end of March 2015.
The amended law will also empower RBI to set up oversight panels that will shield bankers from later action by probe agencies looking into loan recasts.
Banks have been reluctant to resolve NPAs through settlement schemes or sell bad loans to asset reconstruction companies for fear of being hauled up by investigation agencies.
With the ordinance getting President's approval, RBI will now be able to give specific solutions for specific cases and also, if required, look at providing relaxation in terms of current guidelines, said a senior government official aware of the deliberations.
Last month, Jaitley had said NPA resolution mechanism was being worked out with the RBI which will put enough pressure on borrowers to settle dues.
"You see, the amounts are large, but the amounts are restricted. It's not that hundreds and thousands of businesses have created this problem. The problem of big NPA is confined essentially to 30-40, at best 50 companies, and therefore, those 40-50 accounts need to be resolved," he had said.
According to sources, the joint lenders forum (JLF) is expected to be overhauled to facilitate quick decision making.
Instead of being a resolution mechanism, the JLF has become a delaying tool for big defaulters because as per the guidelines, restructuring needs approval of 60 per cent of consortium lenders which more often than not eludes, sources added.
As per the existing JLF guidelines, if a restructuring package is approved by 75 per cent of creditors by value and 60 per cent of creditors by number, other banks have to go along with it.
Besides, the sources said there could be provision which will make wilful default a criminal offence.