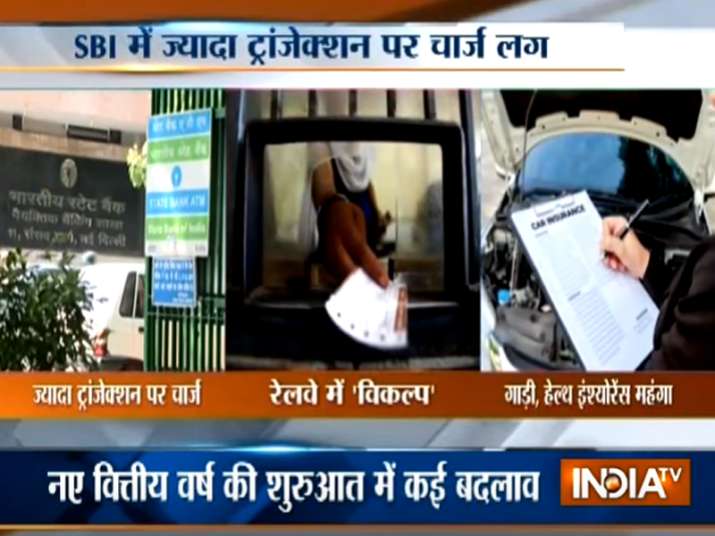 The new financial year 2017-18 starts today, thus new decisions and rules announced by government also comes into effect. 
Under new norms, there are a host of products and services that will become either cheaper or costlier. Here, India TV takes a look at things that will affect the pockets of taxpayers: 
Things that will become cheaper:
* Duty rates slashed on domestic RO water filter and its RO component.
* Group Life Insurance Schemes for Defence not to attract service tax.
* Basic Custom Duty (BCD) on Liquefied Natural Gas (LNG) slashed from 5 per cent to 2.5 per cent.
* BCD reduced from 7.5 per cent to 5 per cent extracts used in leather goods industry.
* No service charge on online railway tickets to continue till June 30.
* Solar Powered Equipments to be cheaper due to reduction in BCD on solar tempered glass used in solar panels and parts or raw materials for use in the manufacture of solar tempered glass.
* Service tax withdrawn on non-residential PG Programme in Management for the PG Diploma in Management by IIM.
* PoS (Point of Sale) machines card and fingerprint readers to become cheaper as various duties (BCD, CVD, SAD) on various components used in its manufacture to be waived off.
* Custom duty rates slashed from 12.5 per cent to 6 per cent on fuel cell-based power generator systems.
Things that will become costlier:
* Cigarettes, cigar, chewing tobacco, cheroots, bidis, pan masala to attract both additional custom and excise duty.
* Mobile phones manufactured in India. The devices will attract additional 2 per cent Special Additional Duty (SAD) on imported printed circuit boards.
* LED lights assembled in the country. Basic Customs Duty (BCD) 5 per cent, Countervailing Duty (CVD) 6 per cent and Excise Duty 6 per cent will be levied on various components used in its manufacturing.
* Custom duty on import of cashew nuts to be increased from 30 per cent to 45 per cent. 
* Silver medallion, silver coins with 99.9 per cent or more purity to become costlier due to hike in customs duty.
* 10 per cent BCD to be levied on polymer-coated MS tapes used in manufacturing of telecommunication grade optical fibers.
Penalty for late filing of I-T return
Not filing income tax return within the deadline (July 31 every year) to attract heavy penalty.  Rs 5,000 if filed by December 31, and Rs 10,000 if filed later. Penalty will be restricted to Rs 1,000 for small taxpayers with income up to Rs 5 lakh.
Penalty for cash payments more than Rs 2 lakh.
Home loan interest claim on rented property is limited up to Rs 2 lakh. 
Cash transaction and several other banking service charges go up: 
After private banks, country's largest lender SBI is set to introduced new cash transaction charges from today. 
For SBI savings account holders, three cash deposit transactions will be free per month and transactions beyond the limit will chargeable -- Rs 50 + service tax.
SBI has also increased Immediate Payment Service (IMPS) charges. Transactions more than Rs 1,000 will only be levied. 
SBI account holders will also be required to maintain a minimum balance in their savings account ranging from Rs 500 to Rs 1,000. The bank will penalise customers for non-maintenance of minimum balance.
Health insurance and vehicle insurance to get dearer 
Taxpayers will have to shell out more money for health and vehicular insurance from today. The Insurance Regulatory and Development Authority of India (IRDA) has okayed the proposal of general insurance companies to pay higher commissions to agents and charge more for third party insurance in case of vehicles. 
Third party insurance charge will go up by 40 per cent to 50 per cent, subject to the type of vehicle you use. However, 1,000 CC private cars and 75 CC two-wheelers have been kept out of this provision.
Revised PPF interest rate applicable from today 
The Centre's decision to lower interest rate by 0.1 per cent on Public Provident Fund (PPF) and small savings deposits will come into effect from today. Following this revision, the popular PPF will fetch an interest rate of 7.9 per cent, its lowest in nearly 40 years.
Railways to launch 'Vikalp' scheme 
The Indian Railways will roll out a new Vikalp scheme today. Under this scheme, wait-listed passengers can get an option to travel in premium trains like Shatabdi and Rajdhani. There would be no extra charges or any refund provided for the difference of fares.
No hand baggage stamping at 7 airports 
To enhance passenger experience and provide hassle free security environment at airports, the government has decided to do away with stamping of hand baggage tags starting April 1. The seven airports are: Delhi, Mumbai, Kolkata, Bengaluru, Hyderabad, Cochin and Ahmedabad. All these airports will see new system of baggage security that will be more convenient for the passengers.
No liquor at hotels, restaurants along highways
The Supreme Court's decision to ban hotels and restaurants falling within 500 metres on either side of the national and state highways from serving liquor will come into effect from today. The top court had in December banned the liquor shops within 500 metres on the either side of the national and state highways.
Simplified I-T returns form notified
The government has a simplified Income Tax returns form for individuals, which will be available for filing ITR for the assessment year 2017-18 from today.