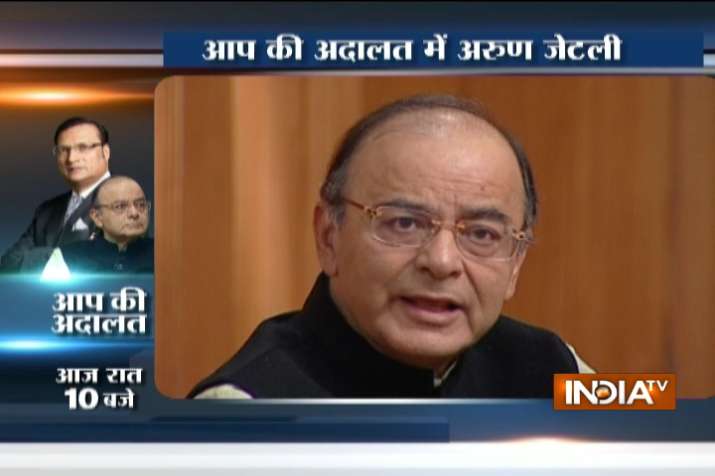 The Reserve Bank of India's original proposal was to issue high-value new currency notes in the denominations of Rs 5000 and Rs 10,000, but the Centre finally decided to go in for Rs 2000 currency notes, Finance Minister Arun Jaitley disclosed here today. 
Jaitley was replying to questions from Rajat Sharma in the show Aap Ki Adalat to be telecast tonight at 10 pm on India TV. 
Jaitley was asked why the Centre decided to issue Rs 2000 currency notes despite Swami Ramdev's demand for demonetising high-value currency notes. He said: "RBI's original proposal was to issue Rs 5,000 and Rs 10,000 currency notes, one, for (curbing) inflation and two, for convenience in handling. The government thought otherwise, because we wanted replacement currency to be available immediately, and hence we decided to go in for Rs 2000 notes."
"Today, there are adequate numbers of Rs 2000 notes available with banks, and if all the people start taking Rs 2000 notes, there won't be any more queues outside banks. It was therefore decided to go in for Rs 2000 notes, so that inflation is kept under control. As far as issuing new Rs 1000 currency notes is concerned, it will be done later and the suggestion that is pending (for Rs 1000) will then be considered."
Jaitley also revealed that a bank chairperson told him today that nearly Rs 300 crore has been deposited in Prime Minister Jan Dhan bank accounts in the last three days. "You must accept that transacting in black money is nobody's fundamental right in this country ". 
The Finance Minister cited requests from farmers' groups, tea plantation workers, and temple managements, and said these groups had sought exemptions for transacting in demonetised Rs 500 and Rs 1000 currency notes. 
Jaitley said, there  was no question of opening more windows for such exemptions, otherwise, he said,  the main purpose of ending black money would have been defeated. "Even political parties would have demanded exemptions." 
The Finance Minister pointed out that soon after the Prime Minister's demonetisation announcement on Nov 8 night, several shops in one state opened all through the night to allow black money hoarders to purchase gold. Similarly, huge cash was paid to buy high-value railway tickets and get refunds, he added. 
On the issue of "recalibration" of ATMs for dispensing new design currency notes, Jaitley said, it would take two to three weeks "for recalibration of machines, since the present machines are calibrated to dispense only Rs 100, Rs 500 and Rs 1000 notes. "We can't change them overnight, and the system's technology requires at least 2-3 weeks for recalibration of nearly 2 lakh ATMs". 
Asked why preparations were not done earlier to "recalibrate" ATMs, Jaitely replied that "secrecy was of paramount importance". 
"We were to keep everything secret till Nov 8. You can't say, we take a decision, press a button, and all the ATMs would function. It doesn't work like this". 
Jaitley revealed that it was only the Prime Minister, the Finance Minister, one or two officials in Finance Ministry and RBI, who knew about the demonetisation move, on a "need to know" basis. 
"As per precedent, on Nov 8 at 6 pm, RBI sent its formal recommendation to the government for demonetisation, at 7 pm the Cabinet was informed about the decision, all ministers stayed inside the room, till the Prime Minister announced it at 8 pm to the nation."
Jaitley claimed that there was no "leak" about the demonetisation decision, rejecting reports that an image of the new Rs 2000 currency note had appeared in social media. 
On AAP leader Arvind Kejriwal's charge that some people in the ruling party knew about it in advance, Jaitley said "His (Kejriwal's) statements do not carry credibility any more. I checked about any particular surge in bank deposits during September and October, and I found that the maximum surge in bank deposits had taken place between August 31 and September 15, at a time when the arrears of Pay Commission were being disbursed."
Jaitley said, political parties would now have to change their funding system. 
"I know the two leaders (Mayawati and Mulayam Singh) are facing problems, ...but there was no political motive behind this decision.... Yes, there will be a political effect, which I will not refuse to admit, that political funding for all parties, including BJP, will now become fully transparent. It was a misfortune that the world's biggest democracy had no transparent funding mechanism in place till now."
Arun Jaitley in Rajat Sharma's show Aap Ki Adalat will be telecast tonight at 10 pm on India TV.