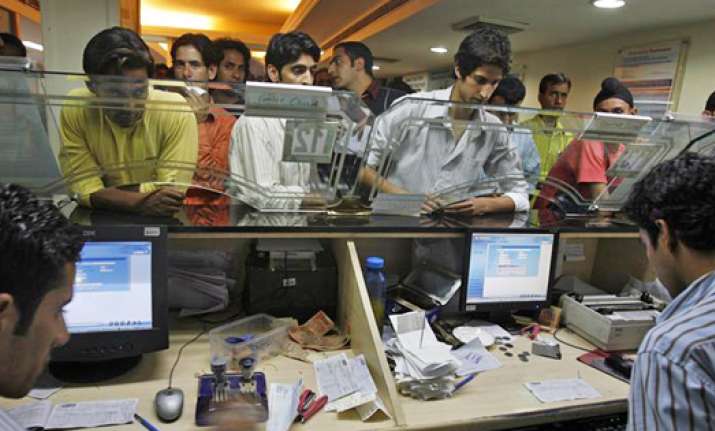 Bearing the brunt of angry customers questioning delays in changing the demonetised currency notes, the employees of banks across the country are also having to pay the price of scrapping of Rs 500/1,000 notes as they have to tackle endless queues of waiting people, long working hours, and a working weekend.
The queues were longer on Saturday, the third day after currency notes of Rs 500 and Rs 1,000 were demonetised by the government, to tackle black money.
Bank employees said they were facing a logistics nightmare as many branches were not equipped to handle such large crowds.
"We are overloaded with work due to sudden announcement of demonetisation. People are cashless, we understand their problem, but we are doing our best," Preeti, a bank employee in the national capital, told IANS.
"We realise that people require money for meeting their daily needs. They must cooperate with bank officials who are also humans and have sacrificed their holidays for helping people," Preeti said.
She said the work overload was beginning to tell on the health condition of bank employees as they are not getting enough time for rest.
Similar story was told by other bank staffers, all of whom have been issued instructions not to interact with media.
"We are facing a huge problem as customers are not listening to bank officials and creating chaos inside and outside the banks," a senior government bank officer told IANS.
She added that people standing for hours are getting frustrated and angry, which is making the working environment in the bank difficult.
"The crowd is impatient, they are pushing and creating a ruckus. They also broke some glass panes in the bank," she said.
Another bank officer told IANS that he has been returning home late at night for the past few days and arrives in office early the next the morning.
"We are not even getting time to drink water or eat, but the crowd continues to grow," he said.
With people panicking, many banks kept their doors shut, and allowed limited numbers inside while queues outside grew longer.
Sadly for many customers on Saturday, which was only a half working day for banks, it was closing time before they could make it inside.
The manger of a branch of HDFC bank in south Delhi, said they were doing their best, and asked people to be patient.
"The directive we got is to keep the branch open till 3.30 p.m., we cannot do anything about it," the manager said, adding that he was not authorised to speak to media.
He said they had sufficient currency, but the crowd was too large to handle.
"We have a currency chest, and sufficient cash, it will suffice till Monday. Banks are closed on Monday, so we will get more cash then," the manager said.
"But most of the crowd comprises of those who do not have accounts with us. We have limited capacity," he said.
Asked about the ATMs, the manager admitted that they were not able to fill cash.
"The cash that was filled was emptied in an hour. We have not been able to fill cash after that," he said.
The new Rs 2,000 notes are not being filled in ATMs, he said, adding that a software update will be needed to give out these notes from the ATMs.
He added that the size of the currency will not be a problem for the machines as it was of the same size as Rs 100 notes.
Asked about the delays, the manager clarified that cashiers had to check every single demonetised currency note deposited so that there are no fake bills.
"The process takes time, we are all working since morning, and we will be working tomorrow as well," he added.
(With IANS inputs)