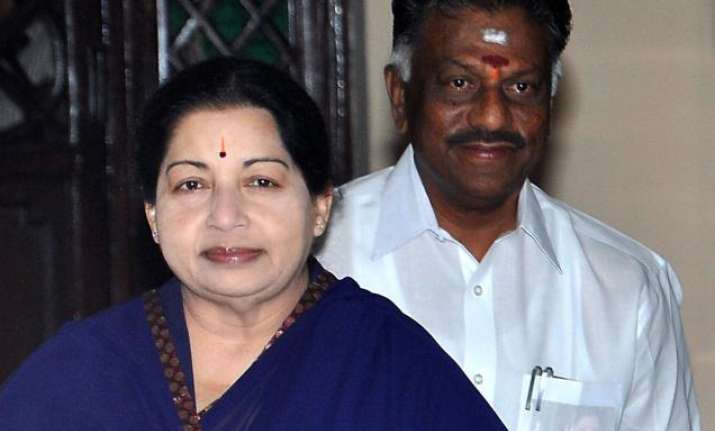 O Panneerselvam on Sunday tendered his resignation as chief minister of Tamil Nadu to Governor C Vidyasagar Rao paving way for AIADMK general secretary VK Sasikala to take charge of state's top job.
This is the third time that chaiwalla-turned- AIADMK leader has handed over the chief ministerial mantle to party general secretary.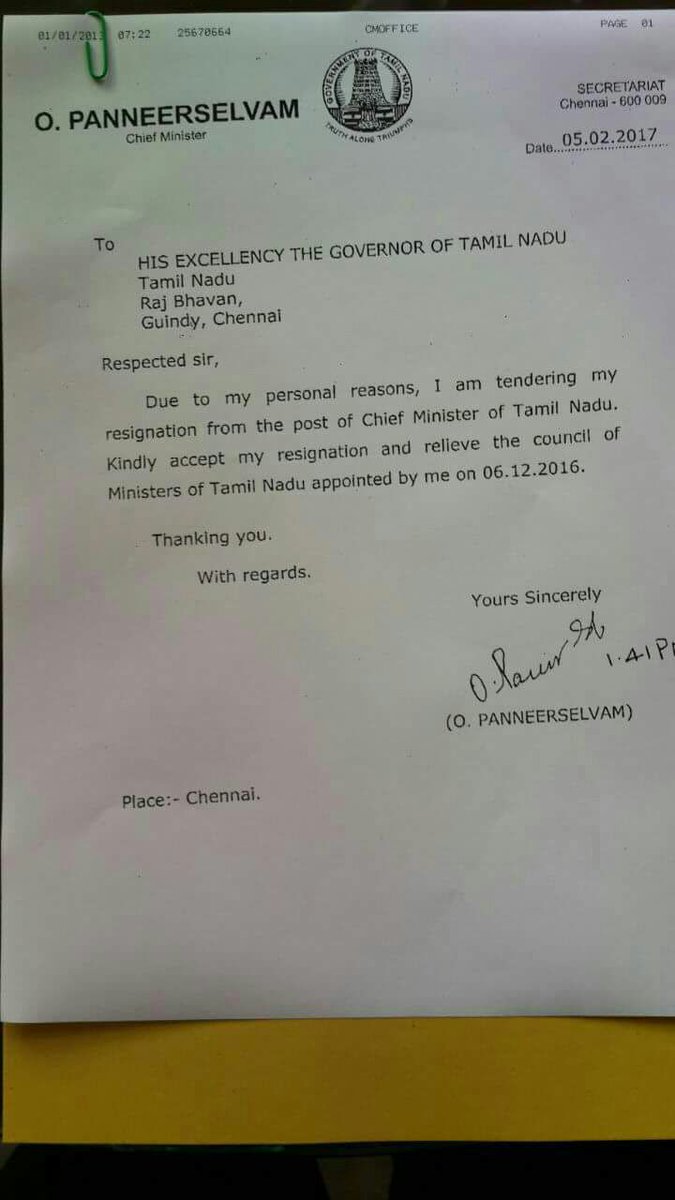 resignation letter
OPS first became CM in 2001 when Supreme Court barred Jayalalithaa from holding the post.He quit without any fuss after six months when Jaya was ready to take charge. Again he was made CM in 2014 when Jaya was convicted in the disproportionate assets case, only to quit seven months later.
Known for his humility and staunch loyalty to the party, OPS continues to warm the chair which has earned him the name of a "puppet chief minister".
Panneerselvam put the time he signed the letter - 1.41 pm. That was when the party was having a closed-door meeting at J Jayalalithaa's Poes Garden residence - where Ms Sasikala is staying - ahead of the meet where she was elected the chief of AIADMK's legislature party.
Reports also say that O Panneerselvam himself was promoted by none other than Sasikala and her nephew T T V Dinakaran. Never, ever did Jayalalithaa promote Sasikala as her political heir but the importance of Sasikala's nominees kept growing in the party. 
Sasikala's public image is that of an outsider trying to usurp power through the back door. Protests by AIADMK cadres in some parts of the state in the wake of Jayalalithaa's demise further harmed her image. That, however, did not influence the AIADMK legislature party a bit.
On Sunday, Ms Natarajan - who is not an elected member of the assembly and had never held any post in the party - said Mr Pannerselvam had a key role to play in her decision to head the government.
"It was Panneerselvam who had first persuaded me to become the chief minister and general secretary as well when Jayalalithaa passed away," news agency Press Trust of India quoted her as telling party legislators.