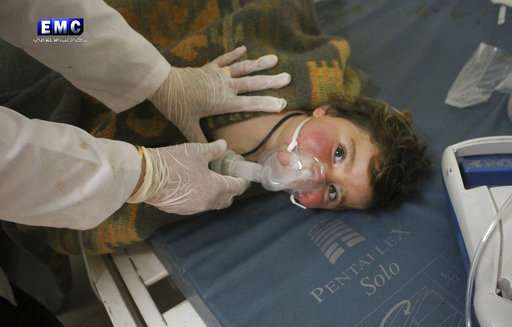 Turkey on Thursday claimed that the chemical agent allegedly used in a recent attack in Syria could have been 'Sarin', a nerve agent that causes organophosphate poisoning.
In a statement, Turkish health ministry said that the results of the first analysis suggested that the victims were exposed to a chemical weapons such as sarin.
At least 72 people were killed and more than 200 were injured in an alleged chemical attack on the Syrian town of Khan Sheikhoun in the northern Idlib region.
Analyses on victims of the attack conducted in Turkish hospitals found many suffered from pulmonary edemas -- caused by excessive fluid in the lungs -- as well as excessive bleeding and increased lung weight.
Further samples and patients are to be analyzed by then Organisation for the Prohibition of Chemical Weapons and the World Health Organization.
According to WHO report released Wednesday, this could be the worst chemical attack in Syria since the rebel-held Ghouta was hit by rockets containing Sarin on August 21, 2013.
That attack left between 281 and 1,729 people dead and was believed to be the deadliest chemical attack since the Iran-Iraq War.
(With IANS inputs)