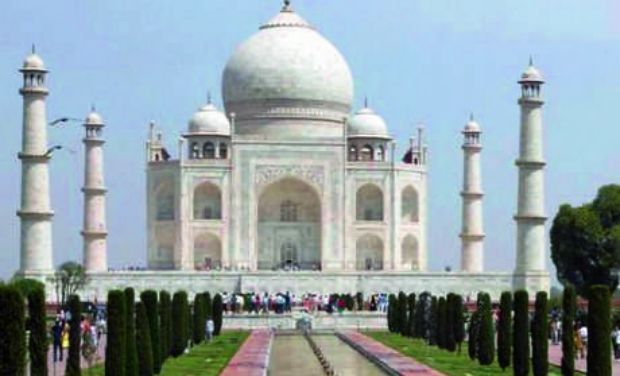 Activists of Bajrang Dal and other Hindu outfits on Saturday staged a protest outside the Taj Mahal over reports alleging that visitors to the mausoleum were not allowed to wear saffron scarves.
The activists demanded action against the officials who allegedly asked models visiting the monument to leave their saffron scarves at the gate four days ago.
Archaeological Survey of India (ASI) chief in Agra Bhuvan Vikram told PTI that "members of various outfits gathered outside the Taj Mahals eastern gate on Saturday afternoon and raised slogans.
"I met them and accepted their memorandum demanding action against some staffers. We will look into their demands and take appropriate action, if required, after inquiry."
The alleged incident has sparked a row with the Centre ordering a probe. Tourism and Culture Minister Mahesh Sharma has asserted that there are no restrictions with regard to clothing for visiting the world famous 17th century monument.
The right wing Hindu outfits had yesterday announced "maha gherao" of the Taj Mahal. Shiv Sena and Hindu Jagran Manch also took part in todays protest.
The models who visited the Taj are representing their country in the 11-day Supermodel International Contest which started on April 12.
The annual Urs of Mughal emperor Shah Jahan, who built the Taj Mahal, begins tomorrow and will continue till Tuesday. A thousand-metre-long ceremonial chadar would be offered by Khuddaam-e-Roza committee. Tourism outfits are worried that the controversy may affect the flow of visitors.
(With PTI inputs)