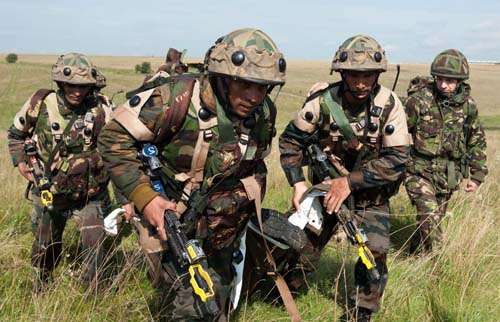 The Union Budget 2017 announced by Finance minister Arun Jaitley on Wednesday saw a 6 per cent hike in the defence budget from Rs 2.58 lakh crore in 2016-17 to Rs 2.7 lakh crore. While it did set a departure from the Budget last year – when the FM skipped a mention of the defence budget from his speech – the reactions to the increase have been far from positive.
Experts believe that the paltry hike in the defence budget has dashed hopes of any major step towards military modernisation this year despite heightened tensions with Pakistan and the increasing military capabilities of China.   
The expenditure on defence is 1.63 per cent of the projected GDP for 2017-18, the lowest since the 1962 war with China. 
According to a Times of India report, while this figure has been steadily declining in percentage as the economy expands, military experts believe that it should be 2.5 per cent to ensure that Indian armed forces are provided with all the modern facilities and weapons to tackle the collusive threat from China and its all-weather ally Pakistan. 
They believe that the defence budget has to address inflation and the need to modernise India's aging military hardware, which features Soviet-era aircraft, and obsolete guns and body armour. 
More than 10 years ago, the Indian Army's elite para special forces were equipped with an Israeli OR-201 helmet made of Glass Reinforced Plastic. However, regular soldiers had to make do with heavy domestically-made helmets, known as patka, which were not comfortable to wear during combat situations and weigh more than 2.5 kilograms. 
A 119-page report by the Indian Army, published on 'Future Core Technologies and Problem Statements', shed light on the problems faced by the soldiers – from vulnerability of their body armour, obsolete night fighting gear, problems with winter clothing to lack of situational awareness systems which keep them updated during operations.  
Laxman Behera, Research Fellow, Institute for Defence Studies and Analyses, expressed disappointment with the amount of funds allocated in the defence budget. 
"There is a bit of disappointment because if you look at the government's revenue increases, it has gone at a very good pace, around 16 percent to 17 percent increase in the overall revenue of the central government. But the defence budget has increased by a mere five percent and much of the increase is in the revenue segment and not in the capital segment and capital expenditure is very vital for the modernization of the defence forces. That is why I would say there is a bit of disappointment for the armed forces," he told ANI.
Out Rs 2,74,114 crore allocated for Defence, about Rs 86,000 crore has been allocated  for capital acquisition, which includes new weapon systems and modernisation, which is overshadowed by the revenue expenditure of Rs 1,72,744 crore, which includes day-to-day running costs, salaries, etc.
Another Rs 14,852 crore has been earmarked for civil works, ordnance factories, BRO, etc, under miscellaneous expenditure.
Last year, Jaitley had increased the defence budget  by 9.76 per cent to Rs 2.58 lakh crore for Financial Year 2016-17  compared to the revised estimates of Rs 2.33 lakh crore for FY 2015-16 even as military pension zoomed to Rs 82,000 crore mainly due to the One Rank One Pension scheme.  
The Finance Minister has said that a central defence travel system has been developed through which soldiers can book travel tickets online.
In addition to that, a comprehensive web based defence pension distribution system for defence pensioners has also been developed.