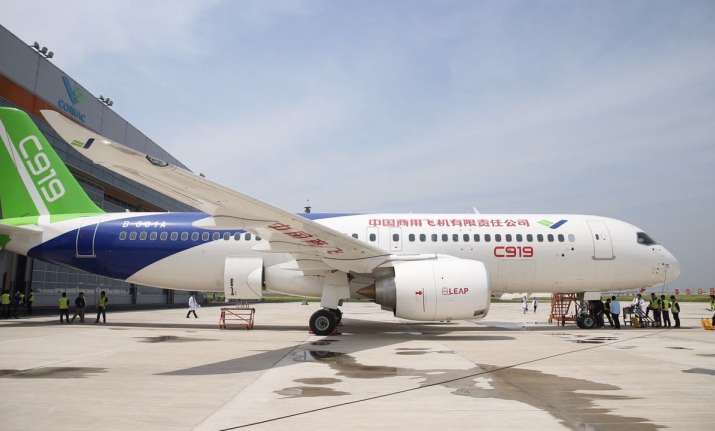 China's first large homemade passenger jet C919 made its maiden flight from Shanghai today.
The maiden flight of the Chinese jet,  touted as a competitor to Boeing and Airbus, signalled Beijing's entry into the global aviation industry.
The 158-seater C919 took to the skies from Shanghai Pudong International Airport and made China the fourth jumbo jet producer after the US, Europe and Russia.
The twin-engine plane departed with five crew members on board but without any passengers.
The "C" in the aircraft's name stands for both China and COMAC, while 9 symbolises "forever" in Chinese culture and 19 represents the maximum 190 seats capacity.
With a standard range of 4,075 kilometres, the narrow- body jet is comparable with updated Airbus 320 and Boeing's new generation 737, signalling the country's entry into the global aviation mark, state-run Xinhua news agency reported.
It also marks a milestone for the Commercial Aircraft Corporation of China (COMAC), the Shanghai-based manufacturer of the C919, it said.
China in recent times has been making big breakthroughs in aviation with new fighter aircraft, including a stealth aircraft, but this is the first time it came out with a